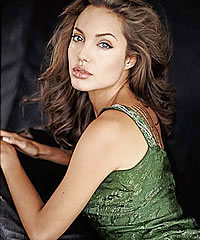 Raised mostly by her mother after her parents divorced while she was still a baby, Jolie moved around a lot with her mother and brother. She also did a fair amount of traveling as a professional model, living in such places as London, New York, and Los Angeles before settling for a time in New York as a student at the Lee Strasberg Theatre Institute and New York University, where she first started acting in theater productions. The fledgling actress soon moved on to film with a small role in 1993's Cyborg 2, followed in 1995 by her turn as a computer hacker in the more widely seen Hackers. The film gave her her first taste of recognition, as well as an introduction to Trainspotting's Jonny Lee Miller, to whom she was married for a short time.
After appearing in a number of mediocre films, Jolie finally hit it big in 1997 with her Golden Globe winning performance as George Wallace's wife in the highly acclaimed TV movie George Wallace. The role, coupled with her Emmy nominated performance in the title role of HBO's Gia, provided Jolie with a new level of professional respect and recognition. She was soon appearing on talk shows and in magazines, answering questions about everything from her multiple tattoos to her famous father to her brief marriage.
She was also netting roles in high profile projects In 1998 Jolie headlined an ensemble cast that included Sean Connery, Gena Rowlands, Anthony Edwards, Gillian Anderson, Ryan Phillippe, and Madeline Stowe in Playing By Heart. The following year, she was part of another high voltage cast in Mike Newell's Pushing Tin, co starring alongside John Cusack, Billy Bob Thornton, and Cate Blanchett. Although the film was neither a critical nor a financial success, it did little to diminish the rapid ascent of the career of the actress, who was in hot demand for projects that would further elevate her already rising star. In 2000, Jolie's star received one of its greatest boosts to date when the actress won an Academy Award for Best Supporting Actress for her portrayal of a volatile mental patient in Girl, Interrupted. Later that year, her personal life also got a boost in the form of her April marriage to Billy Bob Thornton.
Onscreen, Jolie was hard to miss in 2000. She starred in a number of films, including the crime thriller Gone in Sixty Seconds, in which she co starred as a car thief alongside Nicolas Cage, and Original Sin, a thriller that featured her as the bad seed bride of a Cuban tycoon (Antonio Banderas). If she was hard to miss in 2000, Jolie was impossible to escape in 2001 with her turn as shapely video game adventuress Lara Croft in the long anticipated film adaptation of the popular Tomb Raider video game franchise. Carrying on the tradition of video game movies that are light on plot but heavy on the action, Tomb Raider (2001) and Lara Croft Tomb Raider Cradle of Life (2003) scored with summer audiences and quickly shot to number one at the box office despite disparaging reviews citing an incoherent story line, unlike Life or Something Like It, the 2002 romantic comedy drama that critics and audiences alike would rather not have seen.
On July 18th, 2002, Jolie filed for divorce from Billy Bob Thornton, claiming that their priorities no longer meshed after having adopted a child. Though the famously quirky couple were no longer, Angelina's film schedule remained hectic. In 2003 she would play a rich girl turned humanitarian in Beyond Borders, while 2004 promised a host of parts for Jolie, including a role in Oliver Stone's Alexander; an epic biography of Alexander the Great starring Colin Farrell, as well as a role alongside fellow Oscar winner Gwyneth Paltrow in The World of Tomorrow, and a turn as a tough FBI agent in Taking Lives. She has since adopted several more children and became involved with leading man Brad Pitt, who fathered her daughter Shiloh.