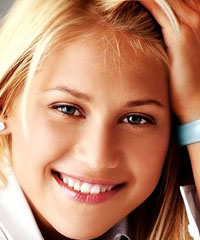 Anna Kournikova was born on 7 June 1981 in Moscow, Russia. She left Moscow at the age of 9 to come to Nick Bollettieri's Tennis Academy in Florida, USA – the same academywhich has also produced Monica Seles and Andre Agassi. She was the world's topped ranked junior at the end of 1995, shortlyafter Martina Hingis joined the professional ranks. Kournikova herselfturned professional in 1996, and competed in her first grand slam at theUS Open that year. She performed exceptionally well, defeating seededplayers before finally falling to eventual champion Steffi Graf in the4th round.
In 1997, she affirmed her position amongst the world's top players,highlighted by a semi-final appearance at her first Wimbledon as aprofessional. In 1998 she further surged up the rankings, with the highlightbeing an appearance in the final of the prestigious Lipton Championships,defeating four top 10 players consecutively along the way. Soon after, shescored her first victory over world number 1 Hingis, and just prior toWimbledon she broke into the world Top 10 for the first time in her career.A thumb injury before Wimbledon (suffered in a match where she defeatedGraf) ruled her out of tournaments for the next few months, and she hassince had a tough time regaining her momentum. 1999 began with acontroversial Australian Open, her play marred by poor form with her service.However, she did manage to make the 4th round in singles (her best result)as well as winning the doubles championships with Hingis as her partner.
Anna says her game wasn't modelled after any one player, although listsGraf and Seles as players she has learnt from, watching television. Nowat 18 years of age, she is developing her power game and exhibitingsome fearful groundstrokes coupled with superb court mentality.Anna is indeed superstar material, with glamourous looks (she says ifnot for tennis, her passion would be acting) and an aggressive all-courtgame to match. In fact, she has had an agent since the age of 10.She is currently on the verge of the world Top 10, and others forseeher and Hingis (along with the Williams sisters) battling it out for worldnumber 1 in the not-too-distant future. Regardless, Anna Kournikovawill play a great role in the future of women's tennis.