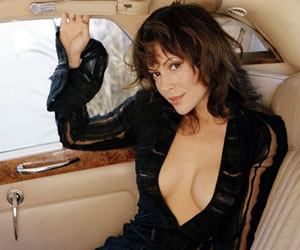 Alyssa Jayne Milano is an American actress, producer and former singer, who first rose to fame on the Television for a childhood role as Samantha Micelli on the ABC sitcom series Who's the Boss, for 8 years. Additionally she has also portrayed as Jennifer Mancini on the Fox soap opera Melrose Place.
Early life
Milano had a good childhood, and grew up in a "loving, true family." Her mother was in the fashion business and her father a film music editor. As a result of this combination of traits in the parents, she got a chance to live a life which was camera oriented and hence there were no pangs about acting. Right from the word go, she was adequately backed by the family and this provided a lot of impetus to her career growth.
Way back in 1991, Milano was given a try for female lead as a homeless teenager in the independent film Where the Day Takes You. Although, initially the crew was hesitant to sign a former child star, she managed to get a small role as a prostitute in the production. Of course, she feared that her fans and viewers would associate her as "the girl from Who's the Boss, but things turned out to be different. She was noticed by the media, and this helped her land the controversial role of Amy Fisher in the high profile TV movie Casualties of Love: The Long Island Lolita Story. The talent in her was acknowledged and brought forth more roles. Health wise, Milano has suffered. She had dyslexia but she overcame it through practice and expert advice.
Milano is a fan of the Los Angeles Dodgers and writes a regular baseball blog on the Major League Baseball's website. In 2007, Milano launched her signature "Touch" line of team apparel for female baseball fans, selling it through her blog and Major League Baseball's website. It also became available in 2009 through a boutique store located in Citi Field, the home of the New York Mets. She has an interest in the Los Angeles Kings, a National Hockey League team, and is involved with a related clothing line. In 2008, she expanded that to NFL football, as a New York Giants fan. Since Milano is in the same hometown as NFL Network's Rich Eisen (Staten Island), she revealed some of her family's connections with the New York Giants.
Besides acting, her hobbies are many and include photography, humanitarian work, and spending time with her three dogs and eight horses. Milano has commented on her love for animals, and in a 2009 interview discussed one of her dogs, a German shepherd called Pinto, who had died at the age of 14; he had worked with the LAPD dogs and Milano had owned him for 10 years.
Milano got engaged to David Bugliari in 2008. The married a year later and in August 2011 she became a mother giving birth to a son.