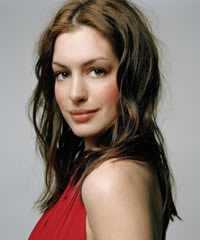 'The Princess Diaries' actress Anne Hathaway is celebrating her29th birthday today. She was born on November 12, 1982 in Brooklyn, New York, United States.
Anne Jacqueline Hathaway is known for her role as Mia Thermopolis inThe Princess Diaries and The Princess Diaries 2: Royal Engagement. She has starred in various family movies including the title character in Ella Enchanted. In 2006, Anne Hathaway appeared on the list of 50 Most Beautiful People by a magazine.
Some of her other films include Brokeback Mountain, Havoc , The Devil Wears Prada, Rachel Getting Married, Valentine's Day, Alice In Wonderland, Love and Other Drugs and many more.