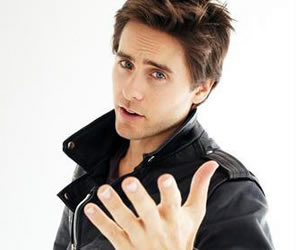 Hey Jared Leto!
Many birthday returns to you dear
Jared Joseph Leto is celebrating his 40th birthday today. He was born on December 26, 1971 in Bossier City, Louisiana, U.S.
Jared Joseph Leto is an American actor, fashion model, musician, director, and producer. He is known for playing Jordan Catalano in teenage drama My So-Called Life in 1994 but rose to prominence for his performance in Prefontaine in 1997.
Jared Joseph Leto also appeared as supporting actor in films The Thin Red Line, and Girl, Interrupted. He was also starred in lead role in horror film Urban Legend and worked for director David Fincher in Fight Club and in Panic Room as well.
Jared Leto is the lead vocalist, songwriter and multi-instrumentalist for 30 Seconds to Mars and he had also directed music videos such as Kings and Queens, The Kill, and Hurricane.