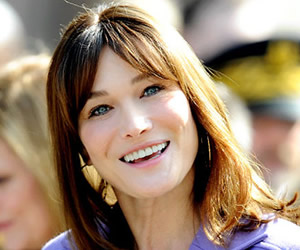 Many Birthday wishes for you Carla Bruni
Italian-French former fashion model, actress, songwriter and singer Carla Bruni-Sarkozy is celebrating her 44th birthday today. She was born on 23 December 1967 in Turin, Italy. She currently holds French nationality.
Carla Bruni-Sarkozy is married to Nicolas Sarkozy, the President of the French Republic and has a daughter.  She is a versatile singer and released her albums Quelqu'un m'a dit in 2003, No Promisesin 2007, Comme si de rien n'était in 2008.
Carla Bruni appeared in film Prêt-à-Porter in 1994 and then in Paparazzi, Somebody Told Me About. . . Carla Bruni and in Midnight in Paris.