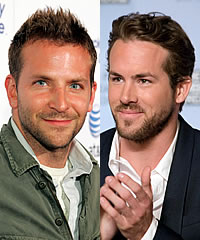 Bradley Cooper has revealed his friendly relationship with actor Ryan Ronalds as both got close during 'Green Lantern' auditions.
Everybody knows Ryan Ronalds smitten with German model Agnes Fischer after leaving Scarlett Johansson but this time he has found a good friend came to be actor Bradley Cooper who is looking forward to flourish his friendship with Ryan Ronalds.
Bradley Cooper and Ryan Ronalds came to know each other while auditioning for Hollywood upcoming film "The Green Lantern".