Britney Spears has had a hectic start to the year. Though the celebrity has been out of conservatorship for over a year, she is still dealing with speculations and fans' concerns about her well-being.
Someone got a video of her and her husband, Sam Asghari, at a restaurant in mid-January, when she was allegedly acting "manic" and speaking "gibberish," leading the "Gimmie More" singer to upload a middle finger video.
She's now criticized Alyssa Milano, a celebrity she's never met, for posting about her.
What Did Britney Spears Say About Alyssa Milano's Post About Her?
Obviously, devoted fans of the Princess of Pop have been known to examine every aspect of her life, with Spears expressing gratitude for their support when her conservatorship ended.
With rumors of her having troubles in recent weeks, the singer has admitted to being "on defense" over the attention and needs to tone down her "kooky and silly" side so that people don't say "she's cray cray."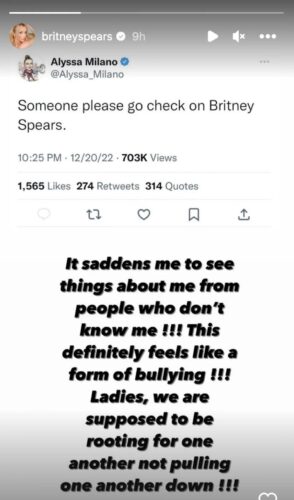 She also recently called out Who's the Boss? alum Alyssa Milano on Instagram for openly inquiring about her health.
While Milano's remark about the Crossroads star was straightforward, it definitely hit a chord, which makes sense. The singer has been the subject of public scrutiny for the majority of her life, with most of it being negative.
Few people can imagine what it's like to have strangers talking about their personal lives as if they know them (her fans recently went so far as to call the police for a wellness check, allegedly leaving Spears "annoyed," which seems like a totally reasonable response), so even though there doesn't appear to be any real negativity behind the post, it's simply another person who doesn't know anything about her or her daily life to Spears.
Looking through the actress' Twitter feed to see what prompted the concern, I found that the majority of her posts are about political activism, ensuring equality for all types of people across the board, her work with UNICEF, and other positive topics, so it's not like she's spending all of her time purposefully attempting to badmouth random celebs. So it made me wonder what occurred to the troubled singer shortly before Christmas that would have led the post.
Around the same time, reports surfaced that Spears' ex-husband, Kevin Federline, and her father, Jamie (with whom she is still embroiled in a court battle over his handling of her conservatorship) were speaking again and allegedly working on a book about fatherhood, despite the "turmoil" Federline has experienced while parenting his sons with the superstar.
She's lately had issues with her ex, who spoke about her in a lengthy interview last year and allowed their teen sons, Jayden and Sean, to speak about the "Toxic" singer as well.
Shortly after learning about K-Fed and her father's collaboration, she posted a cheekily topless photo of herself with a statement complaining about Instagram and inviting her mother to coffee.
Either of these posts might have led the Charmed star to make a comment about the artist, but if she truly didn't mean any harm and has seen how it impacted the legendary singer, she will hopefully refrain from doing so in the future.