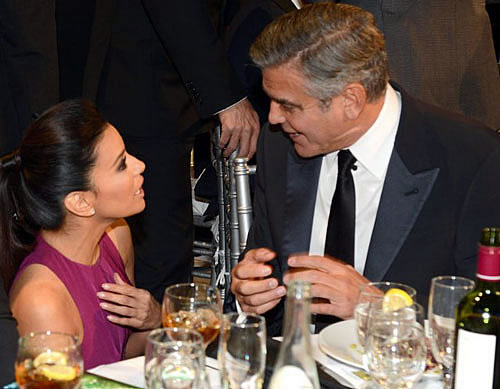 George Clooney reportedly pursued Eva Longoria before his split from Stacy Keibler. The 52-year-old actor was persistent in trying to woo the 'Desperate Housewives' actress – who he has known for years – when they were both in Berlin in March but Eva, 38, told him she would not get involved until he was a single man.
A source told Us Weekly: "George began pursuing Eva,. He told her that he was still with Stacy, but had plans to break up with her and was interested in being with Eva. "When Eva resisted he continued to pursue her with texts and calls. Eva make it clear to him that she would not date or be with him until he was completely single. George and Eva never hooked up."
While George and Stacy recently split up, Eva has gone on to find love with Ernesto Arguello, who starred in the reality TV show she produced, 'Ready For Love'. The insider added: "She is now very happy with him." Although George and Stacy are no longer together, it is believed the former WWE star was the one who called time on the relationship.
An insider explained: "They hadn't had sex for months. And Stacy has always been independent and has been focusing on her work. She got fed up with the distance between them and broke it off."