Ariana Grande's love lifehas seen a lot of ups and downs, so it's no surprise that she has been keeping it under wraps these days. The year 2018 was especially rough on Grande due to the end of her relationship with Pete Davidson and the death of her ex-fiance Mac Miller.
[contentblock id=1 img=adsense.png]
Ariana's romantic rollercoaster seems to have understandably made her a little more private about her love life as of late. Many fans have wondered if it would take a long while for her to be ready to date again after such a bad year. Still, with everything up in the air, fans can't help but wonder if Ariana is still staying single and if not, who could she be dating now?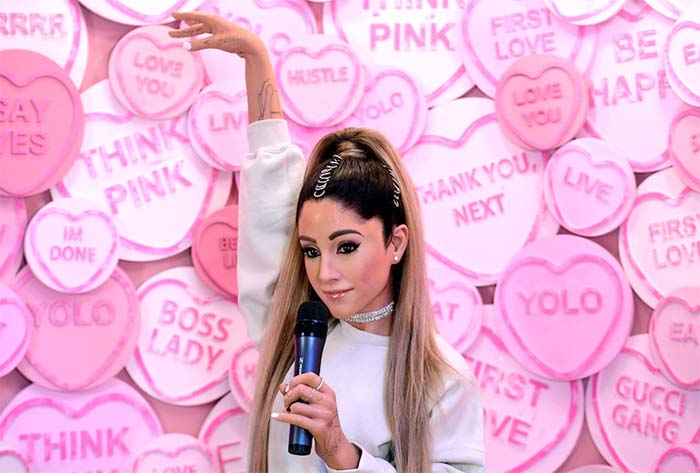 Her 2019 Sweetener tour has been so wildly successful that she had to add a bunch of extra dates to the schedule. She spent the first part of the summer touring all around the US and has been preparing to embark on a number of European dates in August — the girl keeps busy! So is it possible that the pint-sized diva simply doesn't have time for romance right now? We certainly couldn't blame her! Back on July 7, she wrote an Instagram post thanking her fans for coming out to her shows and for helping her get through this rough patch, saying "It is hard to balance taking care of the people around you, doing your job, and healing/taking care of yourself at the same time." With so much on her plate, it would make sense for her to have her thoughts on something besides love.
[contentblock id=2 img=adsense.png]
She's been spotted with former boyfriend Big Sean
According to Seventeen, in the past few months, Ariana has been spotted more than a few times with her ex Big Sean, from whom she split back in 2015. While a source told Us Weekly that the two are "just friends," many can't help but wonder if Big Sean's recent break-up with Jhene Aiko might have created a window for the two to get back together. Nonetheless, despite a few cozy-seeming public outings, there has yet to be concrete proof that there is heat left between the two. Sources close to the singer also continue to deny that the pair has reunited romantically, so if they are canoodling again, they're doing a good job of hiding it.
Perhaps another ex has re-entered the picture
Seventeen also reports that Grande was seen palling around with former flame Graham Phillips, who is most famous these days for his role as Nick St. Clair on Riverdale. Though the two ended their four-year relationship back in 2011, fans couldn't help but speculate if their recent dinner outing could be a sign of something more.  Additionally, on New Year's Day, Grande was seen hanging out with her ex, Ricky Alvarez. While it doesn't seem likely that there's more to this outing than a meet up with old friends, we can't help but wonder: has Ariana been mining her romantic past in search of forgotten treasure?
really glad i checked the mail pic.twitter.com/1hg1KacluT

— Ariana Grande (@ArianaGrande) July 16, 2019
[contentblock id=3 img=gcb.png]
Ariana's recent social media presence has focused mostly on her campaign for Givenchy and pics from her tour. On top of that, recent interviews indicate that she is still focusing on healing and being on her own. In the August 2019 issue, she told Vogue: "I think this is…the first year of my life where I'm realizing that I can no longer put off spending time with myself, just as me." For the moment it seems we'll just have to take Ariana at her word that for her, 2019 is a year for healing — not a year for romance.