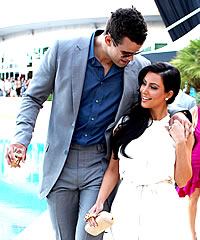 Isn't it shocking! Oh, let the truth be revealed…The recently married couple Kim Kardashian and Kris Humphries are facing some sort of problems to be together.
It seems the hectic schedule of Kim Kardashian and Kris Humphries for sure, is an obstacle in their married life and is tearing them apart. The couple is facing problems with public appearances that hinder their privacy and probably the biggest challenge is constant media attention.
Jonathan Cheban, one of Kim Kardashian's friends says, "It's overwhelming. The first week, there were 200 people outside their hotel waiting for them every day. There are people camping out at two in the morning — not photographers, fans! It's a lot for a guy from Minnesota."
The other thing is Kris Humphries dry and nasty jokes, "Kim's trying to make Kris see that he isn't always right and that he can't just say everything that pops into his head," another close friend of Kim Kardashian said, "Not everyone gets his humor."
Let's see what happens to the quick marriage of Kim Kardashian and Kris Humphries…!!