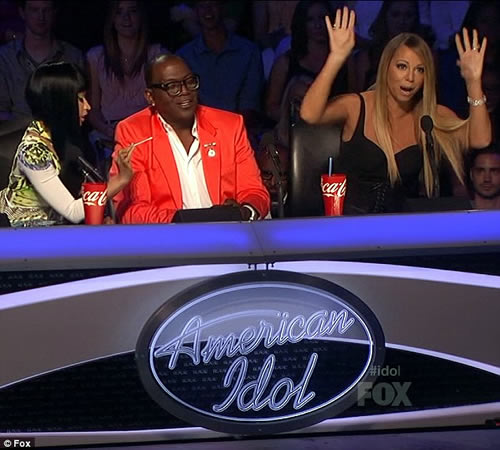 It seems Nicki Minaj believes her fellow American Idol judge Mariah Carey has too much wax in her ears. For when they had yet another disagreement on the hit show, she taunted her rival by waving a cotton bud at her. The confrontation arose as the pair argued about a performance of 'Someone To Watch Over Me' by Angie Miller. Fireworks flew after Nicki told Miller, 18, from Beverly, Massachusetts, that she reminded her of a 'Disney Princess' and that her looks, voice and disposition reminded her of 'Beauty and the Beast.'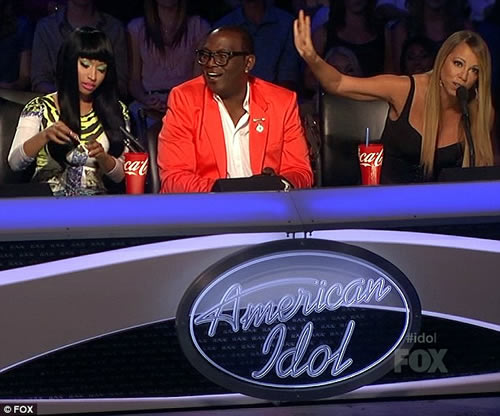 Nicki said: 'I could totally see you singing those kind of songs on Broadway, you have a very Broadway type of thing. 'Something you should work and concentrate on is your high notes as when you hit them you seem to get into it and your face and your body transforms so just get the beginning to there.' Throughout Minaj's criticism Mariah mumbled under her breath and shook her head in disbelief.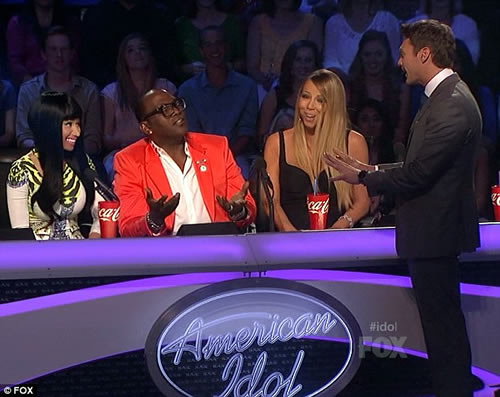 When it came to Mariah's turn she said she had to disagree with 'certain' judges who claim Angie was better off singing at the top of her range and having a 'happy Disney princess moment.' A riled Nicki immediately rolled her eyes, and fired back insisting 'I didn't say that.' That earned a finger wag from Mariah, who shot back 'Oh excuse me, the music will cut me off.' But Nicki would not take it laying down, going into her purse for some ear buds and trying to hand them over to Mariah while repeatedly telling the diva to  'Clean your ears out, clean your ears out.'
Mariah shot back 'Darling, let me express this to her as a singer. Just sing from your heart every time and your notes will continue to shine regardless of the dirt that gets splattered around you.' The show's dashing host Ryan Seacrest then got involved, warning them about their Punch and Judy-esque behaviour. 'Someone is going to go to the corner, we have to get to the end of the show ladies. Are we all still on for dinner?' he joked. Each of the top four was asked to sing a current hit and a standard, under the mentorship of crooner Harry Connick Jr. Partially deaf Miller earlier kicked off the show with 'Diamonds' by Rihanna.
'While I commend you doing an original take on that I didn't feel that was the song to do that do. I was waiting for it to happen and it never happened,' said judge Keith Urban, wearing an 'I Am The Stig' Top Gear t-shirt. 'It was bland, it was lackluster, you can do a lot better,' said an equally unimpressed Nicki Minaj. 'It is a great song but I agree with Keith, it did not go anywhere. I do like the leather shorts though!!!' said Randy Jackson. 'I do think you tried to take it to another place but I also must agree that there was a bit of a sense that you were playing to the camera more than the usual Angie who is lost in the moment,' said Mariah. Nicki then talked over Mariah and saying 'Oh so you must agree with Nicki?' Mariah waved off her fellow judge and took a swipe at her, saying 'Back to the Billboard Hot 100 number ones, which you just performed, it is difficult to get and and not everyone has one, you did a great job.' – Dailymail