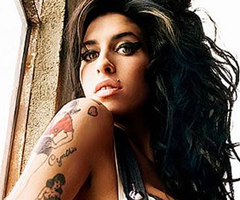 The singer Amy Winehouse launched a Fashion clothing line; mainly consist of 17 individual pieces with Fred Perry. Amy Winehouse's line is based on casual clothing, all of them are available to purchase from October. The designed work is not just for one season but they have planned to make more pieces for the next four seasons too. The fashion collection is actually based on the Amy's recognition of 50's aesthetic.
The Fashion assortment of the emerging Fashion designer Amy Winehouse includes outfits like, cropped trousers and pencil skirts, etc. Most of the clothing pieces are coming in black and pink. She is also very excited about her up-coming Fashion line, also with launching Fred Perry. Both of them have been working on the line from the last few months and now the time to see its feedback is coming. Amy Winehouse is a faithful admirer of the Fred Perry's products, and this might be the reason that she is very devoted in developing the clothing line to stand in the row of famous Fashion Designers. Both had three major meeting about launching the line, regarding styling selection, color scheming & application of fabric etc.
Amy Winehouse herself is a stylish lady and has got a unique sense of fashion; moreover the brand also reflects her own fashion style along with Amy's handwriting.