She filmed her dramatic final scenes as doomed Tina McIntyre this week – and after six-years of loyal service on long-running soap Coronation Street the actress who plays her was given an emotional send-off as she left the studio for the final time.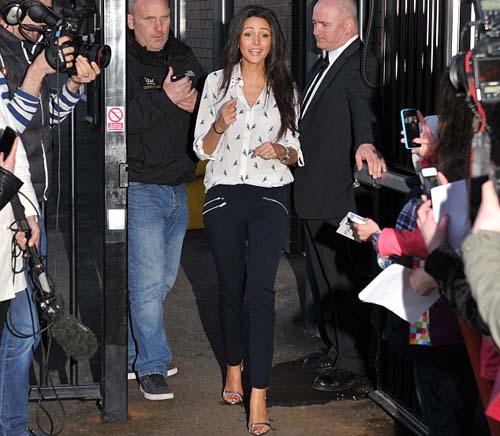 Hundreds of besotted fans gathered outside the show's new home at Salford's MediaCityUK to wish Michelle Keegan all the best as she prepares for pastures new on Thursday. The 26-year-old actress appeared to be overwhelmed as she made her exit through the studio gates, but fortunately her fiancé Mark Wright was on hand to comfort her and treat her to a night on the town. Sporting a loose fitting patterned blouse and black fitted trousers, Michelle Keegan worked her way through the throng – picking up a series of well-meaning gifts and balloons along the way. One such gift, a four piece picture frame shaped into the single word LOVE, came with a run of pictures seria lising each of her meetings with a self-confessed fan, whose body was covered in portrait tattoos of the pretty star.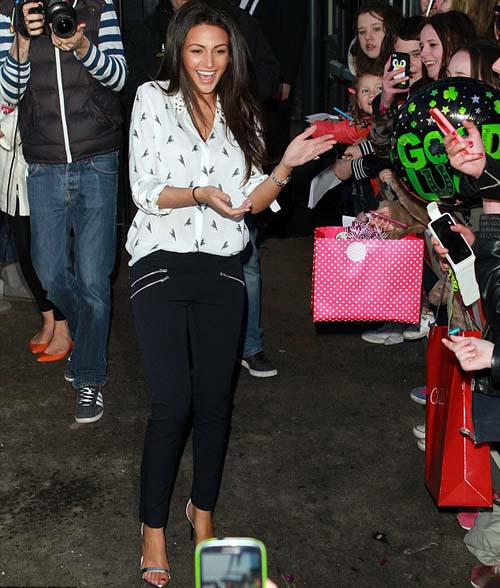 Michelle Keegan even paused to comfort a young girl who appeared to be overcome with emotion at her departure from the hit soap – which was announced last year. There were even a few hugs as the actress – engaged to former TOWIE hunk Mark Wright – made her way towards to Mark. The loved-up couple jumped in the car and Mark drove them into Manchester city centre, where they celebrated. Mark and Michelle Keegan were seen alongside her Corrie co-star Antony Cotton leaving a club after partying the night away in the early hours of the money. It wasn't however her leaving party thought as because according to reports she has planned a fancy dress party for 100 members of cast and crew where she will say her farewells.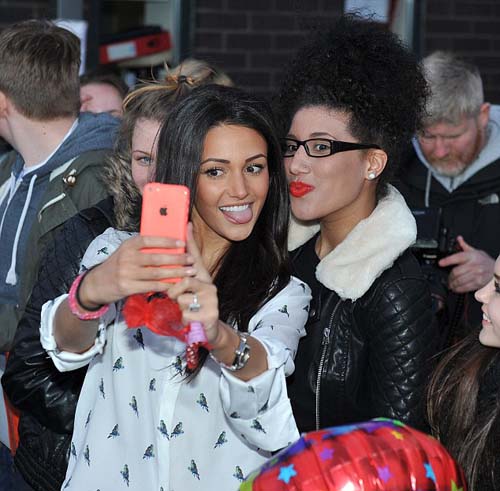 The actress has chosen the theme of 'chav', a word which is often used to describe people involved in anti-social behavior, and Manchester, the city in which the ITV soap is based. Although some have criticised the choice, as the word 'chav' has negative connotations, it's all said to be in good fun. A source told The Sun newspaper: 'Tina is chavvy. It's all in good humour and a celebration of her character. 'It is a wake for Tina but also a leaving party as Michelle Keegan is moving away from Manchester.' The murder of Michelle Keegan character Tina is said to be the soaps next big storyline and for that reason, the bosses are said to be so keen to keep the killer's identity a secret. Carla Barlow, played by Alison King, may also be in the frame for killing Tina, after finding out that her husband Peter Barlow had been cheating on her with the Rover's Return barmaid.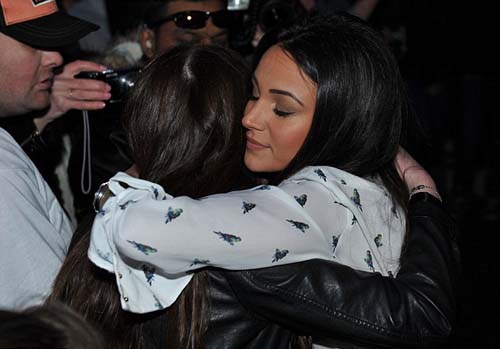 To keep the audience guessing, they have reportedly filmed four different endings, so that even the cast are kept in the dark. Michelle Keegan was set to leave the show in November last year when her contract ran out, but producers persuaded her to stay until May. The actress said in an interview with Hello Magazine that finishing on the street has only just start to hit home: 'It's been hitting home that this is nearly the end of my time on Coronation Street and I'm starting to realise how much I will miss my friends in the cast and the crew.' She added that she plans to throw a huge bash with the cast and crew so she can say 'thank you and goodbye to everyone' whom she has been working with for the past six years.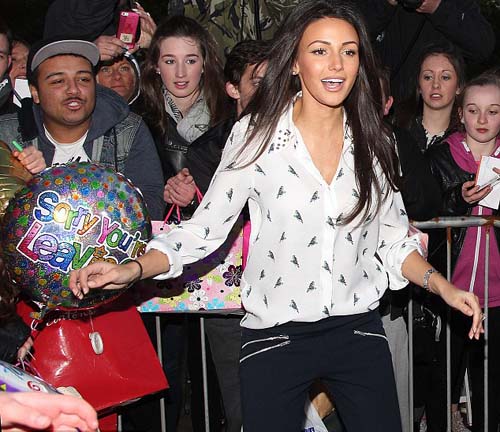 Meanwhile Mark Wright travel programme, Party Wright Around The Worldl – which showed the hunky  star organising global parties – has been given the chop after just one series due to poor ratings. This will be the fourth consecutive show to get dropped after the failure of his Hollywood Nights series in 2012, Take Me Out's spin-off'The Gossip, and his gameshow My Man Can, which was cancelled before it even aired. An insider told The Sun newspaper: 'Mark Wright has a lot of fans and was a huge hit on TOWIE and I'm A Celebrity… Get Me Out of Here!' [in 2011 when he came in second place to Dougie Poynter], but the shows he has done since then have been turkeys.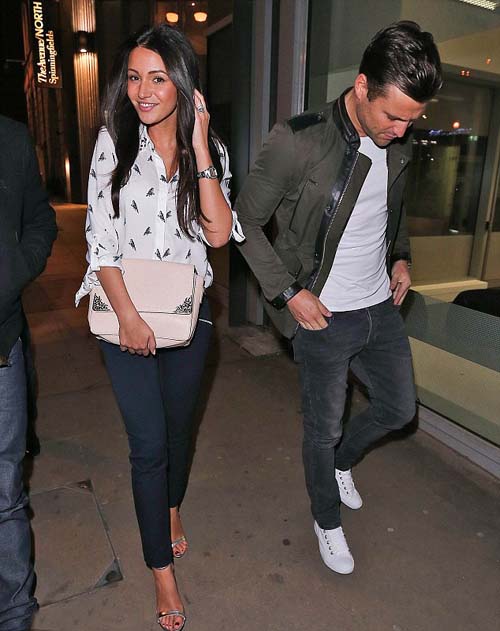 He needs to find a show that works for him soon otherwise bosses may look elsewhere.' Party Wright Around The World kicked off with 350,000 viewers in February, but slumped to just 206,000 within the space of a month. Mark Wright spokeswoman insists the 27-year-old star was fine about the decision to not go ahead with a second series of the show as he's already got other plans in the pipeline. She said: 'Mark was delighted by the fan reaction to the show. It was only ever meant to be one series.' -Dailymail