Neil Patrick Harris makes ill-timed joke after winner dedicates award to her son that committed suicide… but delights crowd with Birdman moment in his Y-fronts.  Ellen Goosenberg Kent and Dana Perry made a touching dedication as they accepted the Oscar for Best Documentary, Short Subject. But it was shortly followed by an ill-timed joke by host of the 87th Annual Academy Awards show: Neil Patrick Harris.
[contentblock id=2 img=adsense.png]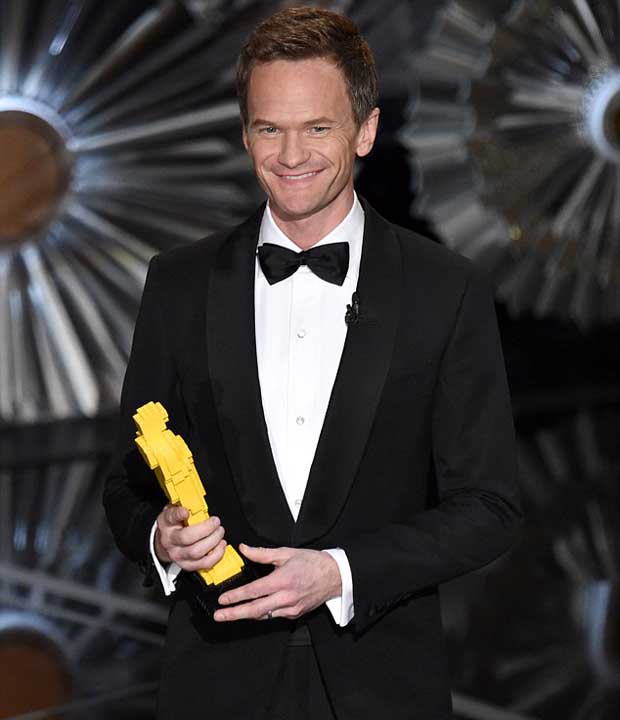 The 41-year-old actor quipped about Perry's dress featuring furry spheres around it as he said: 'It takes a lot of balls to wear a dress like that.' Just before the host came back on stage, Perry had a heartfelt message: 'I want to dedicate this to my son, Evan Perry, we lost him to suicide. We should talk about suicide out loud. This is for him. Thank you!'
[contentblock id=1 img=adsense.png]
Several viewers took to social networking to complain about the untimely joke such as Twitter user @TajMagruder wrote: 'When thinking about making a ball joke after a woman mentions her son's suicide, don't. (cc: @actuallyNPH)' When told of the one-liner, The Crisis Hotline: Veterans Press 1 producer seemed to take it all in stride as she said: 'Well, that is adorable; and I invite anyone to feel my furry balls.'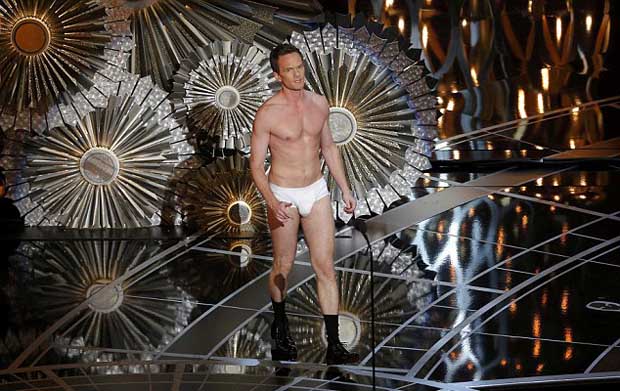 Perry also revealed where she got the eccentric ensemble:  'I went shopping in my mother in law's attic. She had great style. She's not with us anymore, but she had great style in the '60s and '70s, and this is one of her excellent signature pieces. 'And I just love to wear it, because I can make ridiculous dirty jokes about it, and it also keeps me warm. You know, I just got the gown to sort of support the balls, you know what I mean? So I can make the jokes if I want.'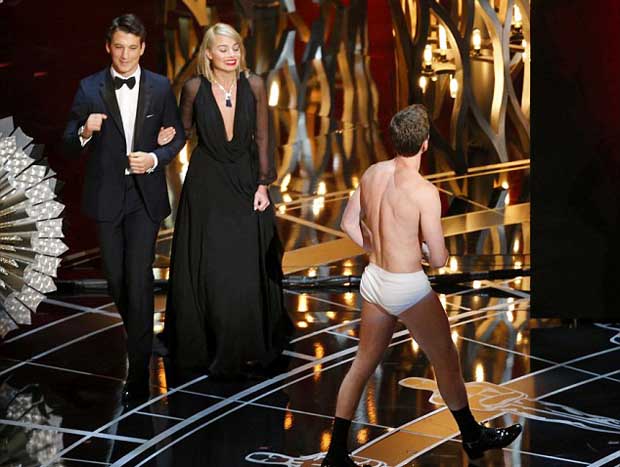 After the commercial break, Neil had a bit of fun with doing a Birdman spoof that ended with him hitting the stage in a pair of white Y-Fronts. The gag began as a director's voice could be heard looking for the host, the camera then moves into the backstage area only to find Neil with his red robe stuck in a door.
Much like Michael Keaton's character in Birdman, Neil is forced to walk out in his underwear as he even passes by Miles Teller playing drums, a reference to his film Whiplash. Neil must face the crowd in his underwear to bring out the next presenters as he said:'Acting is a noble profession and the future of our profession is in good hands like our next to presenters.'
[contentblock id=1 img=adsense.png]
Another flub from the former Doogie Howser M.D. star came when he repeatedly mis-pronounced Chiwetel Ejiofor's name. When introducing two of the first presenters of the evening he said: 'Ladies and gentlemen: As Nicole Kidman, Chiwe-del Ejifor.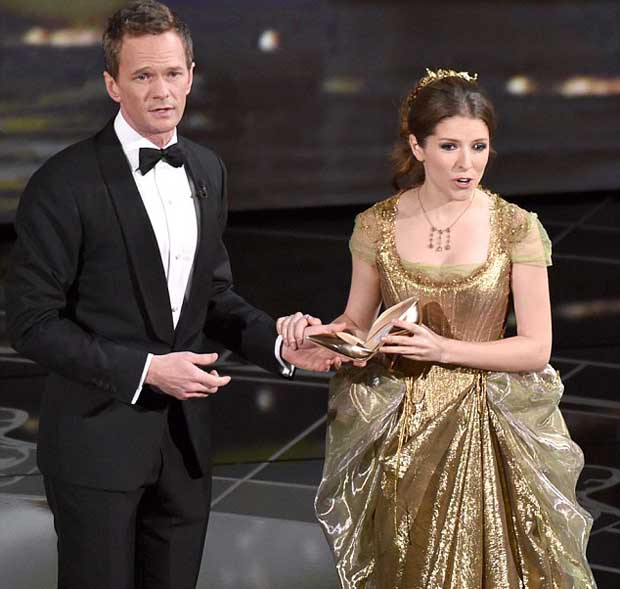 Millions of fans rushed to access it on social media, crashing Twitter and other sites.
Ellen's audience laughed sympathetically when Neil said it had created 'this horrible dark cloud over my head' after calling it 'the most spectacular, successful thing, it worked out so well.' However, she reassured him her picture was a 'perfect fluke' as she had no idea how the star-studded audience would react to the idea.
'You can't plan that,' Ellen shared. 'I hoped that it would happen. I hoped people would jump in.' The How I Met Your Mother star, who has been a hit hosting the Emmy and Tony Awards, said he and his writers had difficulty coming up with material as they kept hearing their gags elsewhere in the run up to his live broadcast. 'It's a tricky process. I'm finding good jokes that we had that are funny and strong, then I'll watch a late-night talk show and they'll say the same joke … the Grammys, arrrgh! Saturday Night Live, arrrgh!… I just want everyone to stop talking until Monday!'
Ellen sympathised, saying she had a similar problem: 'I was still writing an hour before the show started.' Among current emcees Billy Crystal tops the list as Oscars' favourite host with a total of nine times over the years (beaten only by Bob Hope who hosted the ceremony a whopping 18 times). Ellen has only hosted Hollywood's biggest night twice (tied with Jon Stewart) while Steve Martin has helmed the event three times and Whoopi Goldberg four times over the years.
OSCAR HOSTS: PAST 15 YEARS
2014: Ellen DeGeneres
2013: Seth Macfarlane
2012: Billy Crystal
2011: Anne Hathaway and James Franco
2010: Steve Martin and Alec Baldwin
2009: Hugh Jackman
2008: Jon Stewart
2007: Ellen DeGeneres
2006: Jon Stewart
2005: Chris Rock
2004: Billy Crystal
2003: Billy Crystal
2002: Whoopi Goldberg
2001: Steve Martin
2000: Billy Crystal