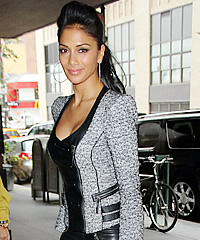 The lead vocalist of the 'Pussycat Dolls', Nicole Scherzinger will be performing Mary Magdelene in Andrew Lloyd Webber's musical movie Jesus Christ Superstar.
The 'Killer Love' singer Nicole Scherzinger has been signed to play Mary Magdelene in upcoming Hollywood film 'Jesus Christ Superstar'. After having tough six months of negotiating the conditions of this role she was not that much excited. Reportedly, "Nicole Scherzinger is a big fan of the songs and was desperate to be involved. She can sing and dance equally well so musicals are a natural step forward."
The film will be released in 2014 yet Nicole Scherzinger is looking forward to appear in many films. Currently, she is busy in filming 'Men in Black III'.