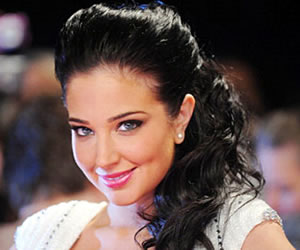 Tulisa has met up with her secret half-brother for the first time. The 24-year-old singer spent six hours in private with Neil Jones, who she has been trying to track down for five years, at her home in North London on Sunday (03.03.13) and while she is said to have been "incredibly nervous", their meeting "went really well".
She explained: "I'm so happy to finally meet my brother. This has been a very important weekend for my family." A source added: "Tulisa feels like the final piece of her family jigsaw has been completed. "She has spent years trying to find Neil and was delighted after finally discovering his whereabouts.
"They communicated online and agreed to meet up over a coffee. "Tulisa was incredibly nervous but the meeting went really well and Neil has been welcomed into the family with open arms. "Tulisa could not be happier. It's been an emotional few days." Neil, 35, first made contact with his dad Plato Contostavlos – also Tulisa's father -before getting in touch with the N-Dubz singer on Thursday (28.02.13).
He is said to have been keen to meet Tulisa after finding out aged 17 he had a half-sister, but he had no idea she was a huge star and has even purchased some of her records in the past. A source added to the Daily Mirror newspaper: "Naturally he was stunned when he realised he was related to someone whose records he had bought unknowingly. – Femalefirst