Kim, Khloe, Kendall and Kara! Delevingne joins supermodel BFF and her sisters as the krew reunites for a girls' night at Sam Smith concert in Los Angeles. She recently appeared in a stunning high-fashion photo shoot with Cara Delevingne.
[contentblock id=2 img=adsense.png]
And Kim Kardashian was clearly having fun with the young model as she joined her and her sisters at a Sam Smith concert in Inglewood, California on Thursday. The 34-year-old reality TV star was one of the more famous guests at the British singer's large gig, and took along two of her sisters, as well as honorary family member Cara and another pal. Kim shared a series of photos on her Instagram page after their night of singing and dancing away to Sam's dulcet tones at The Forum arena, proving that Cara is pretty much a part of the Kardashian clan now.
[contentblock id=1 img=adsense.png]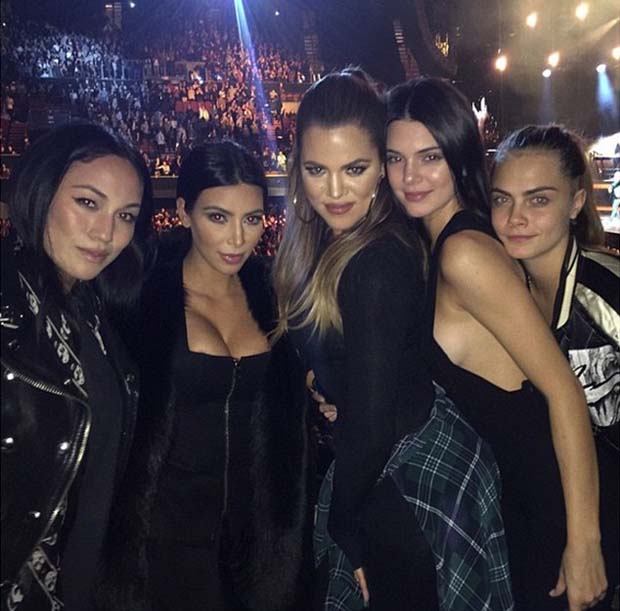 One of the shots gave her a chance to not only reveal her family and new best pal, but also her impressive cleavage that almost ran over her low-cut black top as they posed against the filled-to-the-brim arena. The famous ladies must have sore voices after the concert, as she wrote alongside the snap: 'We sang all night long!!!'
[contentblock id=3 img=gcb.png]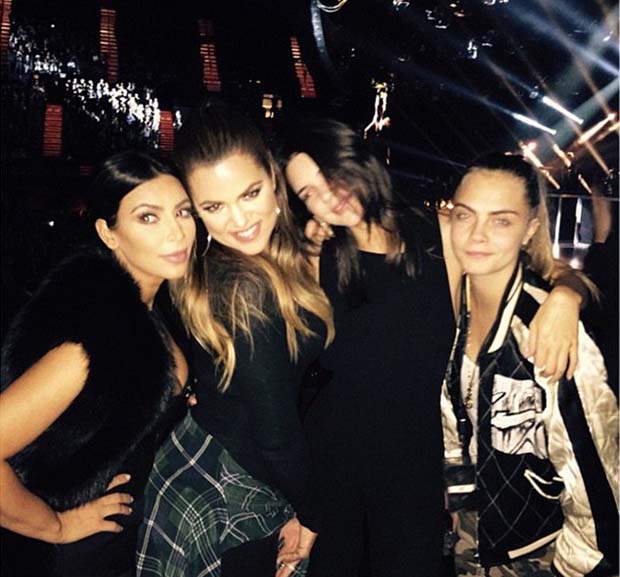 Another fun shot posted by Khloe showed Cara focusing on the performance while the Kardashian and Jenner sisters posed with their pouts on full show. While Kim had opted for maximum glamour for the musical evening, wearing a fur stole over her revealing top with her hair slicked back, her sisters and friends appeared far more suitably attired for the night. Kendall, who has been the best friend of British model Cara for some years, looked low-key with barely any make-up on her face and with a low-slung top that revealed a hint of side boob. Khloe chose a simple long black top with a green and blue checked shirt tied casually around her waist. And Cara stuck to her normal tomboy aesthetic, showing off her natural beauty with a fresh faced look and covering up in a shiny bomber jacket, and rocking a pair of army camouflage combat trousers.