Selena Gomez has managed to hide a new piece of rebellion well – until now. The 21-year-old has certainly said goodbye to her squeaky clean Disney image with the star accidentally revealing that she now has quite the collection of tattoos.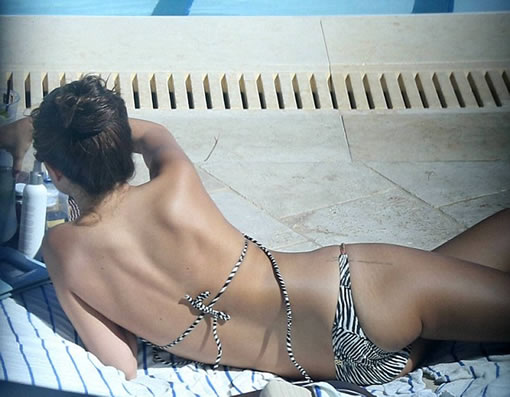 Wearing a tiny bikini pool side in Florida on Monday, the Come & Get It singer showed a long cursive phrase etched into her right hip, her third tattoo.
[contentblock id=2 img=adsense.png]
Selena also has a tiny music note on her wrist – which was done during her first time under the gun in February 2012 – along with the Roman numerals for 76 on her neck as a tribute to the year of her mother's birth. The newest piece in her collection was revealed as Selena enjoyed a fun day in the sun, first at the beach and then by the pool in her barely-there bikini.
[contentblock id=1 img=adsense.png]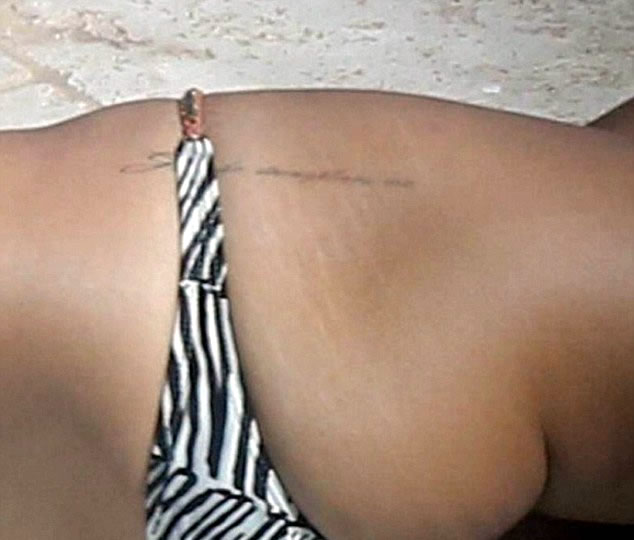 The 21-year-old quickly became the centre of attention on the beach and, for once, it was not because of her massive star power. Instead all eyes were on the pop princess' amazing athletic figure that she put on display in a zebra print bikini. The swimwear featured a simple triangle top with a pair of Brazilian cut bikini bottoms that were made more eye catching by gold chain sides.
[contentblock id=3 img=gcb.png]
The brief bottoms helped the star highlight her curves, which have no doubt been kept in shape thanks to her recent tour schedule that sees the starlet dancing night after night. The beach day was in fact a special break from her tour for the star and her back up dancers. The former Disney star and her entourage appeared to be having a blast.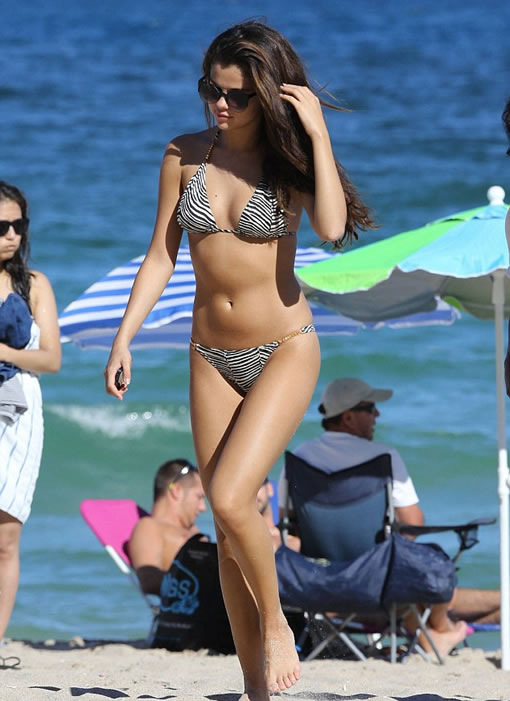 At one point the group looked as though were acting out one of the scenes in Selena's recent film Spring Breakers with a pink haired girl stretching out her arms as the pop star gave her a big hug. While tanning Selena made sure to pose for photos with her friends before posting them on Instagram. With her long brown hair blowing in the breeze as she stared almost longingly out to the ocean, Selena looked as though she was in a swimwear advertisement campaign rather than just enjoying a casual day at the beach.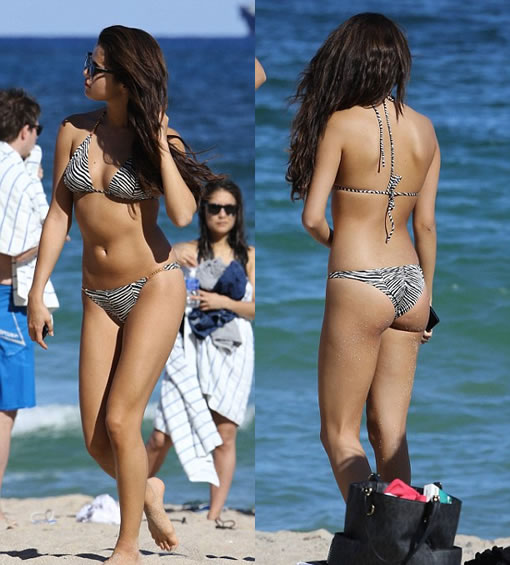 Following her split with Justin Bieber earlier this year, after a dramatic on/off relationship, the starlet has been hard at work. Her time at the beach was obviously a regenerative break as the 21-year-old captioned one of the Instagram images 'Me libertando' which is Portuguese for my liberation or freeing. After their time at the beach the group popped back to their hotel where Selena got even more sun-baking in beside the pool.
The star used the time by the swimming pool to refuel, ordering some snacks from the hotel's restaurant and cooling down the with a Fiji Water. While the star's stunning figure was on display, she recently revealed she is often told she is not sexy enough. The day before while performing in Connecticut, the Come & Get It singer told fans: 'Every day I get told I'm not sexy enough or I'm not cool enough or if I did this or if I did that, I would have people who love me.'
She them implied unlike other performers she did not have to rely on such things: 'Look at this room! I don't have to do any of that to have love!'
Via: Dailymail