All rise. Naomi Campbell walks into the Premier Suite of La Réserve Hotel Paris wearing white underwear and pin-sharp black stilettos. She's late – two hours and ten minutes – but then if she wasn't you'd be disappointed, wouldn't you? It's like Keith Richards without a Marlboro Red. Or Salt Bae without sirloin. Anyway, you know what they say about good things.
[contentblock id=1 img=adsense.png]
What we're here for is more than just a conversation: it's a summit, a call to action. Supermodel Naomi Campbell and British grime artist Skepta – close friends, cultural icons and powerful voices at a time of socio-political tumult – have agreed to go heavy for British GQ. From #OscarsSoWhite to #GrammysSoMale, from Harvey Weinstein to #MeToo, from Donald Trump to Brexit, it's all on the table. This year, after all, is about accountability.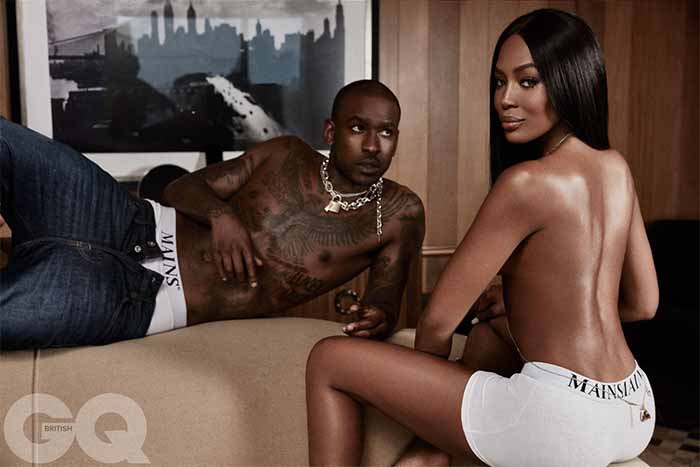 Yet, before we begin, Campbell's antennae are tingling: she is questioning the suitability of her chosen attire for what is due to be an hour-long filmed interview. "I can't have all these people staring at me," she says, abruptly. "They'll all have to go. And surely we're not talking on this sofa." It wasn't a question. Campbell's South London accent is authoritative; her green eyes flash like the light at the end of Daisy Buchanan's dock. This is a warning. All the cameras are facing said sofa, brown and hideous, itself now seemingly sagging with shame. "No," replies the 47-year-old to the room's stony silence. "Absolutely not."
Sensing the atmosphere, the model breaks the static with a giggle: "Who do I think I am, bossing everyone around in my underwear?" Then, Naomi Campbell, one of the world's most recognisable women, does what she's able to do so effortlessly: she realigns the vibe. How? By introducing herself. "Hiiiii," she says slowly, beaming benevolently at each of the blanched faces lining the room's perimeter. She puts a jewelled hand gently to her chest: "I'm Naomi."
Enter Joseph Junior Adenuga, the inked-up grime artist better known as Skepta
. Shouldering an enormous next-season Moncler puffer jacket, with a black cap and black hood, Skepta threatens to knock over anything in his path. Tottenham-raised, the 35-year-old is one of London's most respected musicians. Along with Wiley and Dizzee Rascal, Skepta is one of the forerunners of the capital's grime scene – Britain's 140-bpm answer to American rap.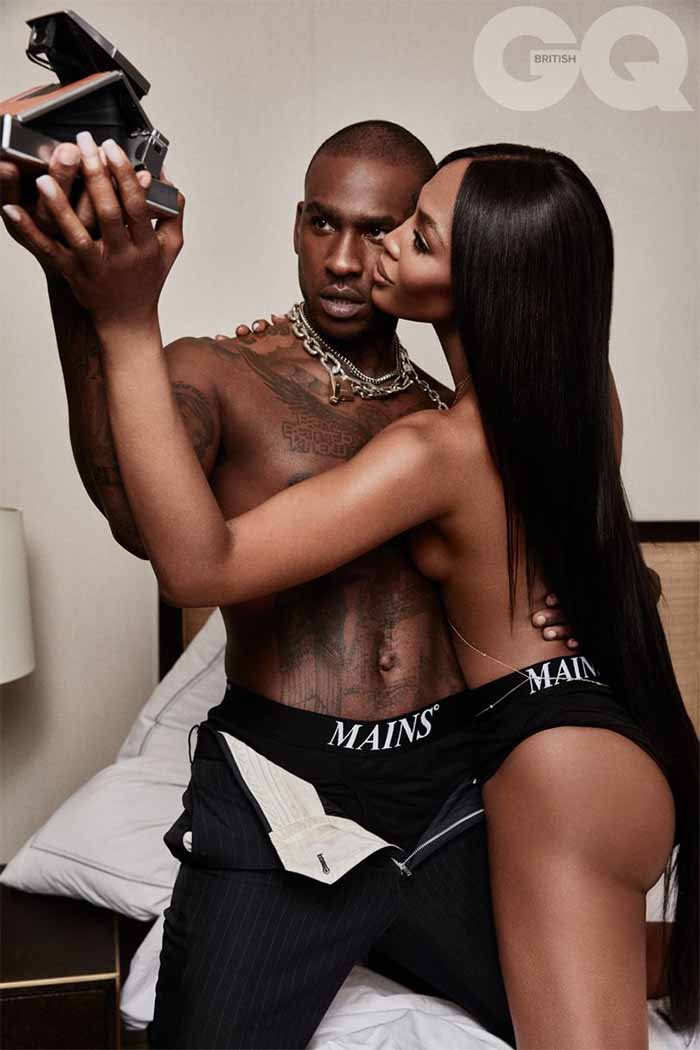 Since grime's second wave went from pirate radio to official charts with "German Whip" by Meridian Dan in 2014, reaching its commercial peak last year (and success in the US), Skepta's name now comes with a string of accolades: the 2016 Mercury Prize for his latest album, Konnichiwa; three nominations and a standout performance at last year's Brit Awards, as well as the 2017 Ivor Novello award for Songwriter Of The Year. Skepta is to London what Jay-Z is to New York: a curator of the city's musical identity and a maverick figurehead, unafraid to stand up and stand out.
Skepta and Campbell met for the first time in November 2016, at the British Fashion Awards at the Royal Albert Hall. Alongside Vogue Editor Edward Enninful, Skepta honoured Willow and Jaden Smith as New Fashion Icons, while Campbell presented designer Sarah Burton, from Alexander McQueen, with the Best British Brand Award. Introduced by Enninful, himself a longtime friend and collaborator of Campbell, the pair took Polaroids with Kate Moss before going on to the afterparty together.
Campbell still has the photo, and a series of Instagram images with love-heart emojis chronicle the friendship that blossomed, which, this year, took a professional turn. For the launch of Skepta's new underwear line as part of his Mains collection, he asked Campbell to collaborate. Specifically: to pose only in a pair of Mains briefs, in his naked embrace, for a series of loving and intimate photographs. The outstanding results can be seen here.
Rumours have emerged more recently that the pair are secretly dating. Like the petulant, reactionary infant that it can be, the internet scoffed: a 35-year-old grime MC who has too much "integrity" to even selfie with a fan and the 47-year-old supermodel who commands the limelight like Jackie Onassis?
Yet, why sneer? What's so unbelievable about these two strong, powerful voices falling for one another, physically, psychologically and, yes, professionally? With careers spanning music and fashion, they have much in common and a cause that binds. They have had to break down walls of habit and ignorance. They have had to shout across echo chambers to be heard. Both black, they have spent years campaigning against the same prejudices. Because of the colour of their skin, both have had to work twice as hard to get to the top, yet have subsequently dominated industries that have historically excluded them.
The interview begins. But first, Skepta, now dressed in a bathrobe to suit Campbell's stipulated "morning after" theme, wants some water. He asks for a bottle of Evian, but Campbell, now in a black slip dress, is not happy. "Lemon water is much better for you," she says, disapprovingly, stopping him opening the bottle. "He'll have the lemon water," she tells the agent on hand. Skepta, without so much as flinching, obeys. Campbell finally looks content. Now, it's time to talk.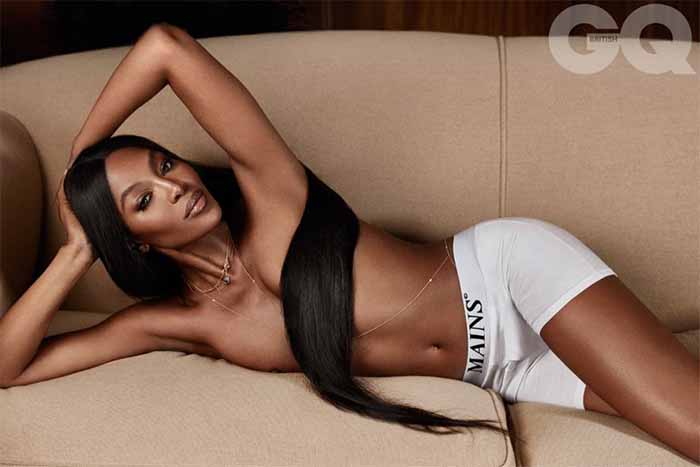 GQ: Two black figureheads coming together in this way: how significant a moment is this?
Naomi Campbell: Yes, it's great that we're a black man and a black woman on the cover of British GQ in 2018. This is the new way; this is what it should be and how it should stay. We're not a trend. And this year, if you look at fashion ad campaigns, there's a person of colour in every campaign – and that's a big deal. First you put the black models in the shows, and we're counting at the end. But then, where are the ad campaigns? They do the show but they can't do the ads? However, this season will be the first time so many women of colour will star in major brand campaigns. What's left to do now is [the] beauty [industry]. But this is not an attack – we're just making you aware. Sometimes, people are so involved in their business that they've got no idea what the casting person is doing. So you have to give them a little nudge and say, "This is just a friendly reminder." Then after a few friendly reminders, yes, it's more of a statement.
GQ: How important are these big media statements concerning colour: this magazine cover, the 2018 all-black Pirelli calendar, the Black Panther film?
NC: I didn't work all these years to go backwards. I've seen so many people sacrifice their lives: Martin Luther King, Nelson Mandela… Now, more than ever, when I do a job, I don't care about fame. I think, "What does it do for my people?" We've had to make these statements to remind you when you're not being diverse. But when you choose, you should make your decision with diversity and balance.
Skepta: These magazines are such big deals because they shape how society sees beauty. So thank you to everybody who helped us get here and thank you for acknowledging us. But we're still always going to do us. I don't want to make a big thing out of things like this. It's supposed to be like this. But I understand that, like an arm wrestle, there's a forceful fight over on one side before it goes over to the other side. That's what's happening and I just hope it balances out, because the pressure isn't good for anyone.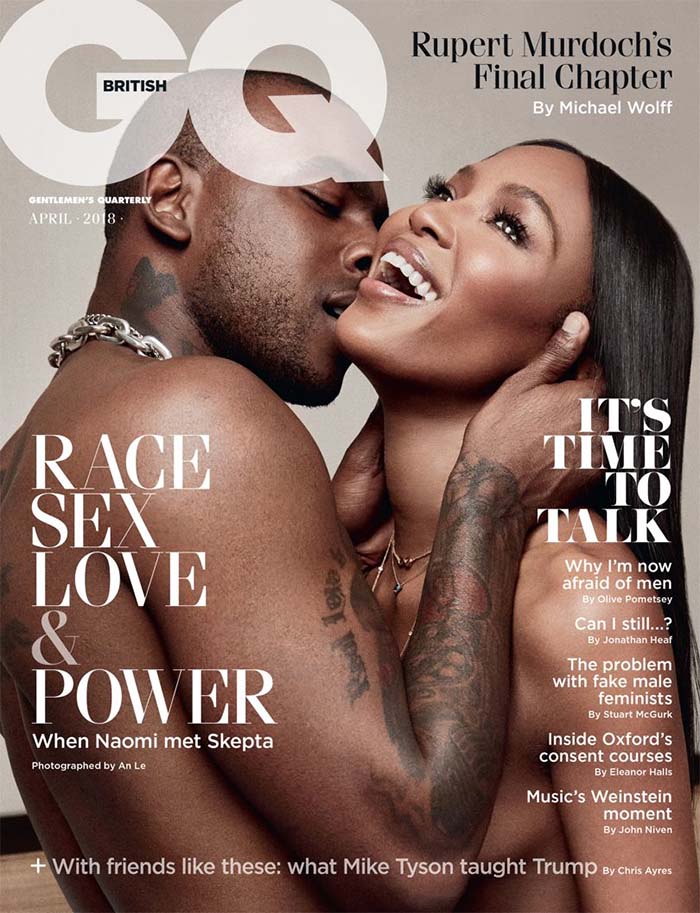 GQ: There have been steps forward with regards to diversity, but last year we also saw some steps back…
NC: I don't know what to say. Because that man made a statement the other day that's just unheard of, so… I don't know what to say. I see it backwards right now.
GQ: Are you talking about Trump calling immigrants' origins "shithole countries"?
NC: Yes. It's disgraceful. It's disgusting. Where is the etiquette? Things are tense and they're tense worldwide. Ignorant people now feel they can come out and openly show their ignorance because the leader of the free world is showing his.
S: [Laughs.] I shouldn't laugh, but with the presidents and people we have in power, who am I to take it seriously? This is hilarious. This is The Sims. This is a game of The Sims.
NC: They should have thought of that before. It was a game when they were voting. They should have really been thinking, "What are we doing?" Now this 
is the consequence.
S: We don't care. We're just in a world of likes and followers and if someone can say the best things and get the most followers and the most attention, then they're going to get the most votes.
GQ: How do you react when people are racially ignorant to you personally?
NC: I don't react openly. I go back and get what I want. You say I can't have it? Well, I'm going to get it another way. I've never used it as an excuse to fall down on as a victim. It drove me.
S: Everyone knows their wrong from right, so when people are being racist they know they're being ignorant. I don't engage with ignorance. My mother always told me, "Never argue with a fool, because from afar you can't tell who's who." I keep that in my head. I understand they've got a long way to travel.
NC: I remember getting the Blue Train with President Mandela in my twenties and at each station we would get off and greet each township. But then I remember realising it wasn't everybody who loved Grandad [Campbell often refers to Mandela as her Grandad]. It wasn't everybody who wanted him to be free. I heard people say horrible things and when we got back on the train, he said to me, "What's wrong?" "Nothing," I said. And he said, "What did you hear?"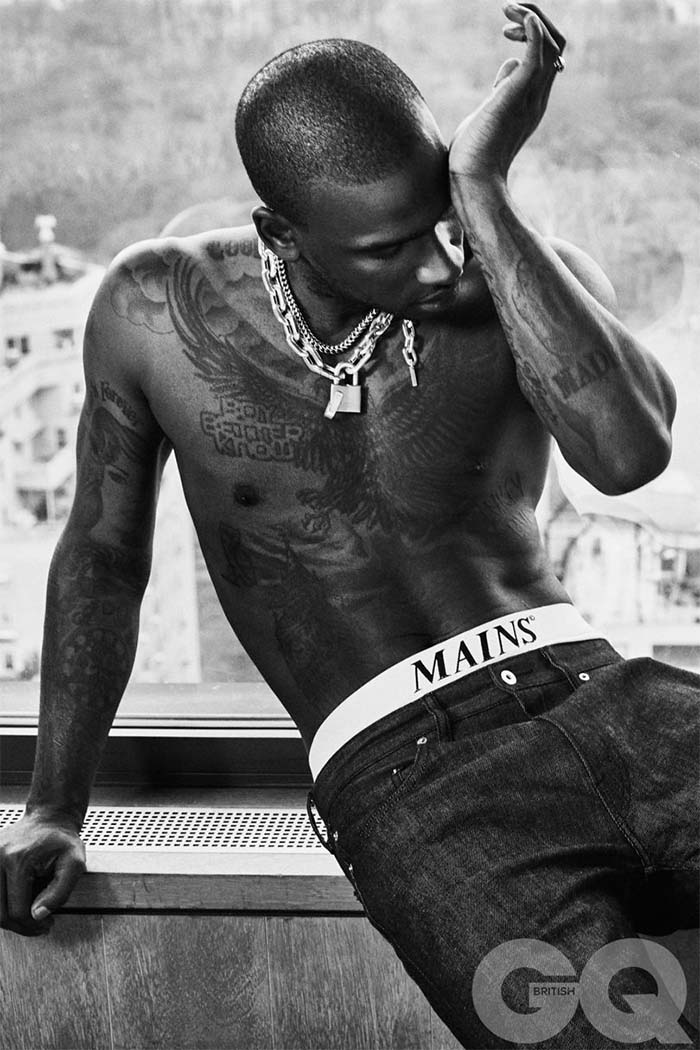 S: Did you stay at [Mandela's] house?

NC: I stayed at his house.
S: Did you cook?

NC: No, I didn't cook. He had cooks.
S: I would have stayed there all the time, you know? He would have had to tell me to leave.
NC: Sometimes he would call me up and he'd be like…
S: Was there Wi-Fi?
NC: He would call and be like, "There's a…"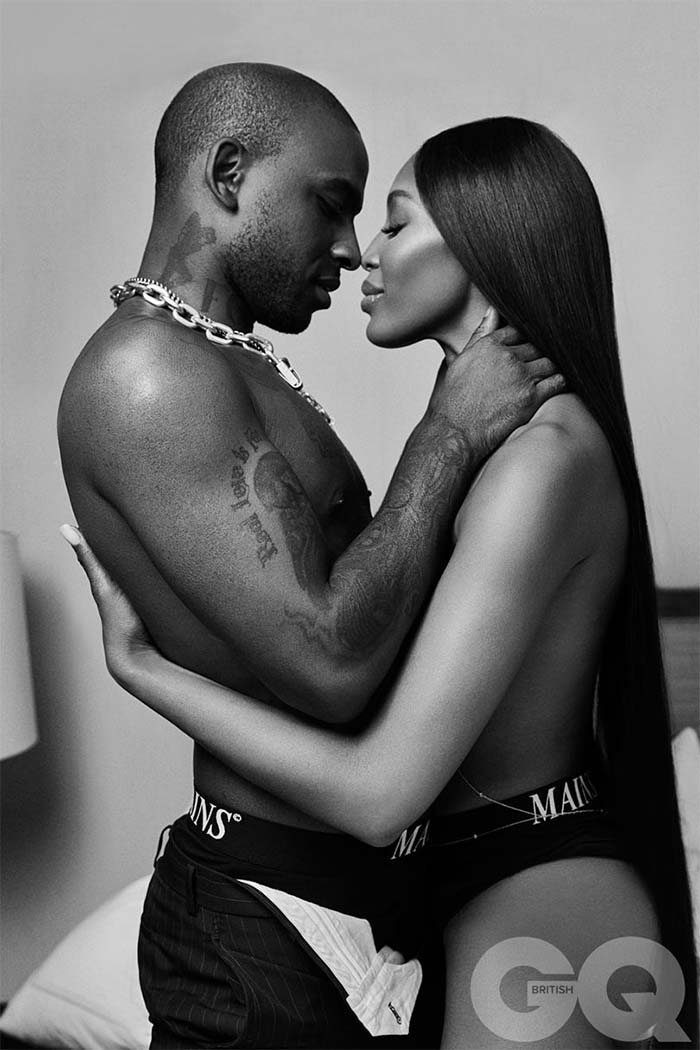 S: Was there Wi-Fi?
NC: I don't think so back then. I used to have a Nokia Ericsson. It wasn't like it is now.
S: As long as there was Wi-Fi, I would have stayed at Nelson Mandela's house.
GQ: Skepta, what would you have liked to say to Nelson Mandela?

S: He went to the forefront and changed it for black men. There's a lot of pain that we've felt and that we need to churn out. It only takes one man to take himself out of the general mindset of a black man and [the mindset] moves on. When I was younger, he was the one who made me realise who I didn't have to be.
GQ: To talk about someone who couldn't be more different to Nelson Mandela, how much has Harvey Weinstein and the #MeToo movement affected you?
NC: You can't say that man's name in the same breath [as Mandela's]. Well, it affected my charity. [Weinstein] hasn't honoured any of the pledges he made last year, which is disgusting. Syrian and refugee children have lost out because he didn't give the money. I stand with all women and with every woman who has been violated by that man.
GQ: Were you surprised by the allegations?
NC: I wasn't surprised at all.
GQ: Had you heard rumours?
NC: He's who he is. It's awful. I don't want to talk about him anymore. I'm done.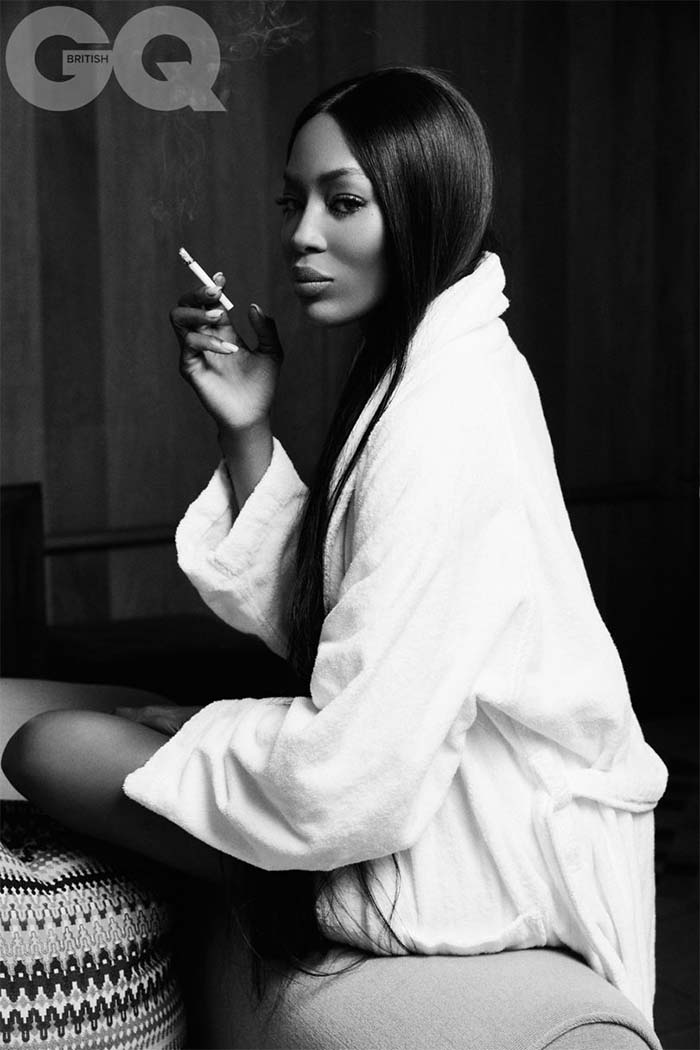 GQ: How would you define sexual assault?
NC: If anyone, man or woman, does not want to be touched and you force yourself on them, then it's assault. There's nothing to define. It's wrong, period.
GQ: You don't believe there's a spectrum? Is a touch on the knee sexual assault?
NC: I'm thinking of something more than a touch on the knee when you say the word assault to me. I'm thinking of something that's against the person's will. 

S: I think it's crazy that there are guidelines to "doing right". It's just simple. If someone doesn't feel you like that, then you obviously know. And if they say it to you, then you know anything past that is just wrong.
GQ: Skepta, do you feel you now have to be more careful with what you say and do around women?
S: It's like the arm wrestle: this is a fight back. For a long time, men were just running around taking the piss, but now the internet has given everyone a voice. Artists like Lil Peep – rest in peace – are talking [about these problems] openly now. And what we're realising is that sex is it. It's the reason [all these issues] exist. We have to respect sex. For a long time, men weren't respecting women. They weren't understanding mother earth, mother nature, the motherland, all the motherly stuff. And now we are.
GQ: Are you a feminist?
S: I am for feminism. I stand up for women standing up for themselves in the same way I stand up for being black. At one stage, whites were racist to blacks, but now, black rappers are saying stuff like, "White bitch/she sniff a line" in their songs. But if a white rapper said, "Black bitch", even if it wasn't followed by anything derogatory, even if he then called her "the most beautiful flower", he'd get crucified. I think there's going to be a massive toppling. Women are going to be battering men for a little while now.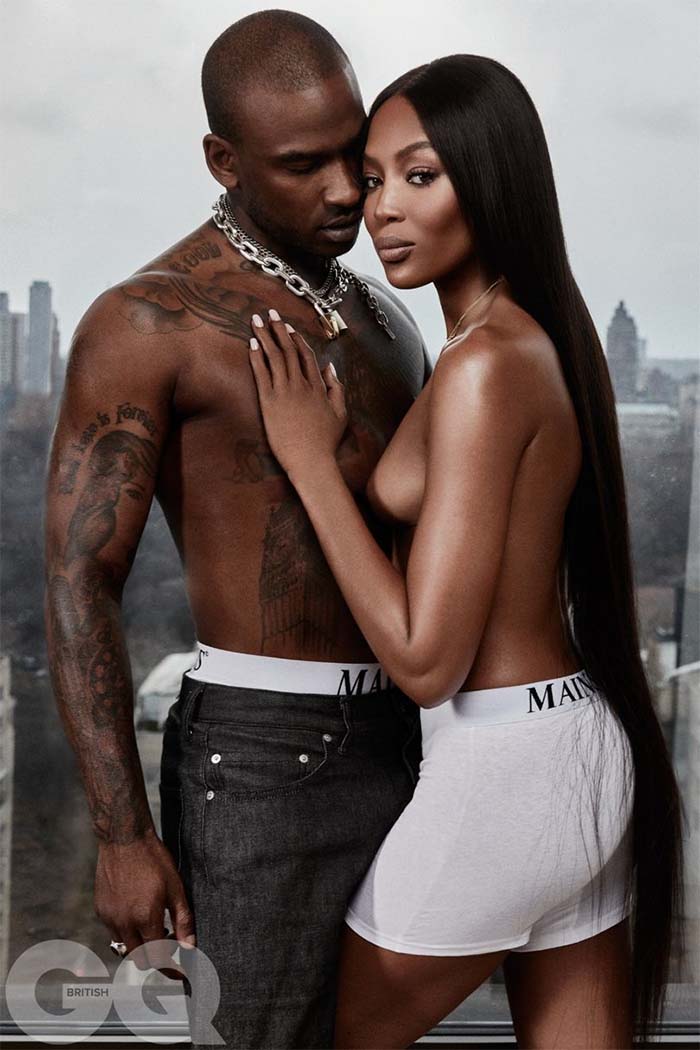 GQ: Is there a pressure on men to live up to a certain archetype of masculinity?
S: I watch the National Geographic [Channel] a lot, even without the volume on. I just love watching animals. Because we are animals. Sex is an urge. We want to have sex. But now, people are just going to have to respect sex. If you don't respect [sex] then we're not respecting ourselves. I don't rush into any stuff like that. I've got to get married…
GQ: Have you witnessed abuse of power in the music industry?
S: I've seen it. But now women are understanding their power [in music], just like in every field of entertainment. About three years ago I got a female manager to see what it would be like and she changed our lives. Now, I think you'll find a lot of rappers and artists are getting girl managers. It just makes sense. The guys in my team have learnt a lot from bringing girls in. Some men can't do it, because they're stuck in the past, but others are working it out.
GQ: Can we talk about mental health? Does mental health carry a certain stigma among some black communities?
NC: I don't think there's a stigma.
S: What stigma? Let's have the conversation.
GQ: In a recent BBC documentary [Being Black, Going Crazy?] presenter Keith Dube reported on the stigma he found in African communities.
NC: That they don't want to tell their families they've got mental health issues? I don't think we should dwell on this because it's not going to come out right. That's gone too left for me. I don't know how to get my head around it. And without talking about my family…
S: Black. Black. Black! Ah, there are some funny words in the world, man. You say them and… boom! It's hilarious. I don't know what's wrong with me. They're only words and you can put whatever meaning you want to them. When I was younger, people would say things and they would control me, but it's bullshit. Even now, we're talking about it… and it's materialising. It's becoming something. But I realise you have to talk about it to move past it.