Caroline is Swedish by nationality and she was born on March 27, 1985 to Thomas and Camila Winberg. She was nourished in Stockholm suburb of Sollentuna. From her childhood, she was fond of playing football and wants to become a professional football player.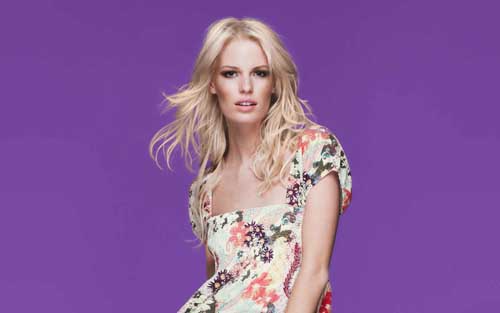 She used to play football with the juniors of AIK Solna. The model was also a good baby-sitter of her younger siblings and spends her evenings by looking after her 5 young siblings. Caroline was a tomboy in her childhood and never did the things like girls do in their teenage. She never thought of becoming a model or actress; her directions were totally different like she loves to play football, she wanted to become a teacher, an accountant and also interested in science as well.
Career:
Though Caroline Winberg wanted to become a professional football player, but at the age of 15-she was suggested to consider career in modeling by her scout. The model said she didn't believe the suggestion at first, but later she act upon the advice. When she was sixteen, she put her first step in the world of modeling by doing local shoots and also appeared in promotional sports for regional companies. In a very short time, she has been noticed by different famous agencies and also by Woman Model Management.
Soon he becomes famous by working for several high-profile campaigns such as Armani, Versace, valentino and many more.  She got high fame in modeling industry and thus shifted to New York alone to establish herself in the profession and her parents were still in Sweden. Caroline spent her teenage in doing hard work for the sake of success; she also brought a house in London but didn't spent much time there. She missed her family badly and often went Sweden to see her parents and siblings. After shifting to US, Caroline done landing shoots with Mario Testino and also working for a lingerie brand for almost seven years.
This brand also made her known to Cara Delevingne and Jourdan Dunn who are London's current fashion darlings. The supermodel of Sweden has also graced the covers of some fabulous magazines like Italian Vogue, Russian Vogue, and German Vogue etc. But now, she seemed a bit worried of being replaced by other supermodels because she has turned to 30 this year.
As a model:
Caroline Winberg has a perfect figure that a model should have. She neither does diet nor go to gym; she is an active woman with intelligent brain. In her interview to a magazine, Caroline said that she hate diets and doesn't like gyms as well. Her height is 180 cm tall 85-61-89 bust-waist-hips combination. The reason behind her fitness is her keen involvement in physical activities like playing tennis and of course football in her spare time. She also suggests other weight conscious women to practice their favorite sport in their spare time rather than doing gym and following painful diet plans. They are irritating and can make you good for nothing.  Model measurements: The beautiful model has blonde hair that compliments her beauty and blue color eyes that goes perfect with her personality.
Her height is ideal height for a model i.e. 86-61-86 (EU) and dress size is 2. The shape of her face is square which gives her bold personality more charming look.  Personal Interests: Caroline is fond of taking pictures and reading books when she got time. According to her, life is empty without friends and she love to hangout in a near coffee shop. She loves the sandwiches from subway and that is her favorite food as well. Caroline has a boyfriend as well but she never disclose his name our relationship status in front of media or public. She has planned to settle in her homeland soon i.e. Sweden.