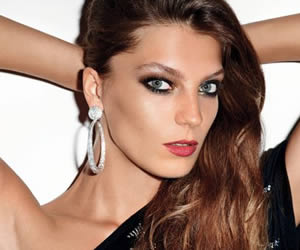 Fashion Model Daria Werbowy is one of the most talented and known model s, attempting successful modeling shoots due to which she has 6th Forbes Position in "The World's Top Earning Models list". Daria Werbowy has appealing sexy figure of 34-24-34 measurements with 5 feet 11 inch height.  Here is more info for the crazy fans of Ukrainian Canadian Fashion Model Daria Werbowy.
Daria Werbowy Mini Bio:
An epitome of epic sexiness, Daria Werbowy was born in Ukraine on November 19th 1983, raised in Poland for three years after which she lived in Ontario, Canada to become the Daria Werbowy model and to make the world go crazy after the Daria Werbowy fashion. From her early school and high school days Daria Werbowy was a modelesque and appealing figure and her innate sparks of achieving the heights of modeling were discovered by her school friend's mother who was leading a model and talent management company. She attended school as visual arts students that gave her more ideas about commercial appeal and how to use her god-gifted talents in a more effective way.
It was in her 14th year that Daria Werbowy actually won a professional modeling contest defeating famous and super talented models. Now the common school girl is known as Daria Werbowy model and a French beauty brand Lancome has become her identity.
Daria Werbowy is the real sign of beauty with an ideal height of 5.11''. Her hair's color is naturally brown but she love to wear different hair styles with colors. Her bluish green eyes make her face features more prominent and lend her more and more beauty.  Size measurements of Daria Werbowy are 34-24-34.
Daria Werbowy Modeling Career:
Daria Werbowy fashion's commercial appeal is smartly used by world's famous brands like Lancome, Prada, Gucci, Valentino, Christian Dior, Ralph Lauren, Versace, Oroton, Chanel, Pepe jeans, Missoni etc and Daria Werbowy has quintessentially delivered it all. Although she could not achieve the ultimate international success initially due to the less efficient talent management  companies (Toronto's Susan J Model and Talent  Management and Elite Model Management) she was working with or perhaps her potentials were not explored completely and comprehensively, she became the internationally recognized Daria Werbowy model  and the Daria Werbowy fashion began to be known, adopted and followed across the globe after she joined International Management group (IMG) with which she is associated till date as it gave her career a massive boast.
Daria Werbowy Career Achievements:
Achievements of Daria Werbowy model in this industry are immense even in this meager time frame. The biggest success of Daria Werbowy model is in the fact that all big brands of the world are after her for promoting their products and services in the most effective ways as public is eager to follow the Daria Werbowy fashion immediately.  Daria Werbowy has achieved the status of a top runway model and has done the most shows than any other model since 2003 in a single season. She was declared as the ninth most highly earning models in the world after Kate Moss, Karoline Kurkova etc by Forbes in 2007. Daria Werbowy fashion is followed to such an extent that she has been placed in the list of top 30 models. She has also been presented on the covers of American Vogue has three times on the covers of Vogue Italia.