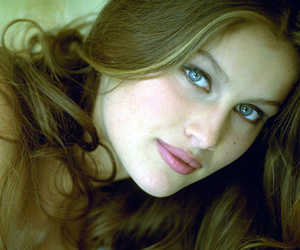 The babe on the cover of top of the line magazines like Vogue, Cosmopolitan, Glamour, Rolling Stone and Elle, the woman with the sexiest French face that we have all seen in the L'Oreal advertisements and a number of French movies, not to mention her sexiest photo shoot for Victoria's Secrets is Laetitia Casta. The French beauty was born in Normandy, France. People love Laetitia Casta for the sizzling and sexy poses and shots that she has taken in her modeling career. Laetitia Casta also gained fame through some French movies. Laetitia Casta has also worked for the French version of the animated movie Rio by giving her voice.
Laetitia Casta's personal life is something that is not hidden from the world. She has dated a guy named Stephane Sednaoui and given birth to her first daughter named Sahteene. Her personal and love life does not end here. Laetitia Casta is engaged to an Italian actor Stefano Accorsi and the couple already has two children, a girl and a boy.
It is known that her modeling career began when she was only 15 years of age. She was out on a vacation with her family in her father's native village called Corsica when an agent from Paris's Madison Model approached her and offered her with the shoots. Laetitia Casta's beautiful French features are something that actually made the big names in the fashion world like the editor of the magazine Elle think about appointing her as the cover page model. One more achievement for Laetitia Casta is that she has also worked with Guess? And has helped the Guess? Jeans gain a lot of fame through her stunning looks and talent.
Laetitia Casta enjoys a lot of adventurous sports like go carting and roller blading. She is also a certified brown belt in judo Karate. Laetitia Casta's hobbies include watching movies in the cinema, painting, writing and dancing to her favorite songs whenever she gets the time. Laetitia Casta is also known as the famous Guess? Girl around the globe due to her successful Guess? Jeans campaigns.  Laetitia Casta's sexy body is what turns the men on and makes them go crazy about her.
Some other famous names that Laetitia Casta has worked for include Chanel and Dior. Laetitia Casta is a resident in London and there was a controversy about her shifting to London. Some people think she had to shift to London because she was made Marianne in France however, Laetitia Casta says that these rumors and controversies have nothing to do with the reason why she shifted to London and settle there for the time being.
We wish all the very best to this French beauty for all her next and upcoming ventures!