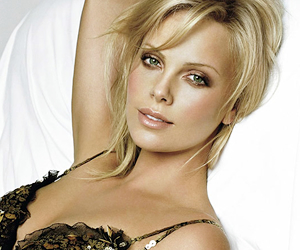 South African Charlize Theron, who now has United States citizenship, has won many awards in her acting career. In 2004 Charlize Theron was praised by South African president Nelson Mandela when she won Oscar. She was guest of honor at the Nelson Mandela Foundation in Johannesburg. President hugged this stunning actress because of raising their country on fame. She is first African who won Academy Award for Best Actress. Charlize Theron won this award for portrayal of serial killer Aileen Wuornos in Monster 2003. She was also named as Sexiest Woman Alive in Esquire Magazine 2007.
Charlize Theron was born in August, 7, 1975 and spent her early life in Benoni, South Africa with her parents. She got her education in dancing. Charlize Theron is perfect ballet dancer and experienced in the both "Nutcracker Suite" and "Swan Lake".  In the local competition at the age of 16 she won a one year modeling contract. This stunning beauty started her modeling career too at the age of 14. When she was 15 one day when father was drunk tried to attack on her mother. In self defense her mother shot him and he died. This was emotional faze of her life but she didn't discontinue her dancing & modeling career. Charlize Theron loves her mom; she said "My mother was an incredible example to me. I can't imagine going through life without her. I think she has influenced who I am, but without intent really"
After realized that the dancing career opportunities were less in South Africa she moved with her mother to Los Angeles, California where she accidentally got a chance of acting. Yes it happened with her, when she had to cash her cheque given by her mom, she was at Hollywood Boulevard bank where teller refused to cash her cheque, and Charlize started shouting match with teller. In the mean time John Crosby was stand in the line behind her. He gave her his business card and asked to visit him. So this was the first step of her successful career as after it she rose up day by day. It is estimated that Charlize Theron earn 2 million dollar per year endorsing Dior's J`Adore fragrance.
Charlize Theron has acted in many hit films and won the awards too. Her successful films are The Cider House Rules in 1999, Mighty Joe Young in 1998, and The Devil's Advocate in 1997. She is second actress who won Oscar Award for being naked in Playboy Magazine. The Italian Job in 2003 & The Legend of Bagger Vance in 2000 are also her successful films. In North Country she was also nominated for Satellite Award for Best Actress for Josey Aimes.
Charlize Theron quoted that "People want to think that I am this tortured soul, that my work is drawn only from this one well. And though I would never sit here and say that it didn't mark me, or mould me into the person that I am, my life has had many painful journeys and heartbreaks since my father died, many of which I draw on for my work".