Real innovation is a rarity in the watch world. Every spring the big brands announce their new "novelties" for the year, and every year the casual observer might wonder where the novelty is. A thinner case size here; an added date window there. That's often the headline news. One of last year's most talked-about launches was Rolex's Submariner, a watch that's been available since 1953. The biggest cosmetic difference between the 2020 version and its previous iteration was a 1mm bigger case. Fair enough: Rolex's brand equity is unimpeachable. It's fair to say it probably knows what it's doing.
Staying in its lane isn't an accusation anyone could level at Hublot. Ever since it paired a rubber strap with a gold watch 40 years ago, the Swiss firm has been engaged in what it calls "the art of fusion" – combining unusual materials like Kevlar, tungsten and gold to create talking-point watches that could only have been created by Hublot.
The jewel in its crown is the Big Bang. Yes, it's true that there has been an abundance of variations on the hit model since it was introduced in 2004. But when these include the Big Bang "Ice Bang" (made with tantalum, a material found in nuclear reactors) the Black "Caviar Bang" (544 diamonds, cost $1m) and the Big Bang Red Gold (a new type of gold Hublot invented) no one could ever accuse them of not putting the effort in.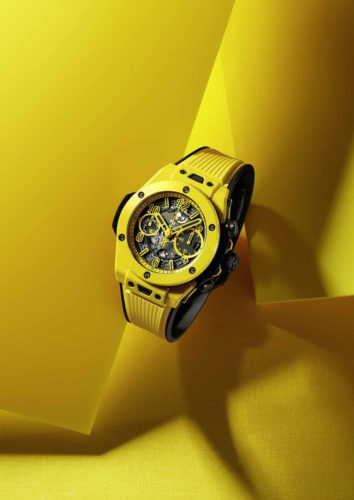 Hublot hasn't deviated from that plan this year. It has just announced four radical new Big Bangs: the Big Bang Unico Yello Magic; the Big Bang Integral Tourbillon Sapphire; the Big Bang Integral Tourbillon High Jewellery and the Big Bang Sang Bleu II in Ceramic.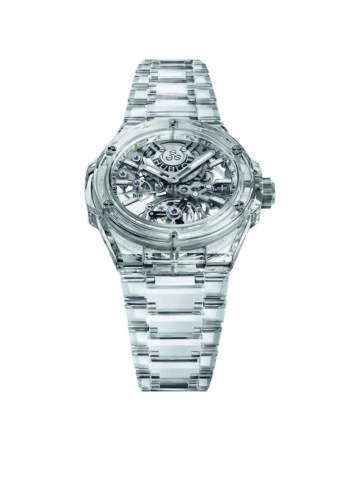 The first, the Big Bang Unico Yellow Magic has a matte black and yellow skeleton dial, a 42mm yellow ceramic case, yellow ceramic bezel and a yellow and black rubber strap. It exists in a limited run of 250 and makes use of Hublot patented special ceramic, introduced in 2018 and previously used by the company to produce watches in red, blue, beige and green.
The Big Bang Integral Tourbillon Full Sapphire is 43mm, comes in a polished sapphire case and a matching integrated sapphire bracelet – a world first, and a watch made of pure sapphire. It is a limited edition of 30.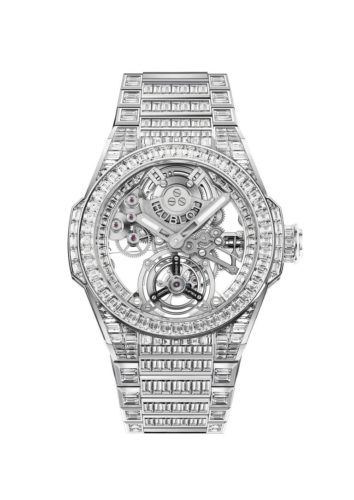 The Big Bang Integral Tourbillon High Jewellery is a 43mm 18kt white gold set with 484 baguette-cut diamonds, totalling 31 carats. Its 18kt white gold bracelet contains a further 304 baguette-cut diamonds, accounting for another 20.5 carats.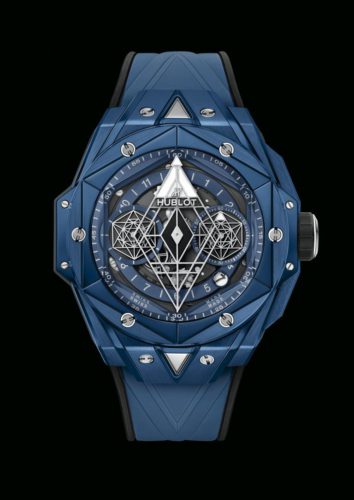 The Big Bang Sang Bleu II Ceramic is another example of the ongoing collaboration between Hublot and the tattoo studio, Sang Bleu. The new Big Bang Sang Bleu II Ceramic watch will now be available in blue, grey and white. The 45mm watches are limited to 200 pieces each and stand as a colourful follow-up to last year's Sang Bleu II All Black.
These are singular watches for singular customers. They're not for everyone, but that's okay – they're not meant to be. In an industry where playing it safe is the norm, Hublot remains defiantly different.
Big Bang Unico Yellow Magic £21,700; Big Bang Integral Tourbillon Full Sapphire, £349,000; Big Bang Integral Tourbillon High Jewellery is £567,000; Big Bang Sang Bleu II Ceramic is £22,600, hublot.com