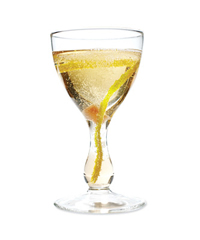 By the mid 1800's the luxury drink 'Champagne Cocktail' was all the rage at our dinner parties and soirees in genteel society. Today these sparkling Champagne cocktails are as hip as ever in wine bars and lounges from coast to coast. Well Add a little bit of lemon garnish and angostura bitters to your sparkling wine for a perfect holiday beverage.
Ingredients:
    1 cube(s) sugar
    Angostura bitters
    Sparkling wine
    Lemon twist, for garnish
Method:
Put sugar cube in a Champagne glass. Lightly sprinkle the sugar cube with Angostura bitters and pour in enough sparkling wine to fill the glass. Garnish with a lemon twist before serving.