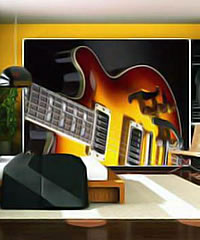 Creative wall hangings, murals, wall papers, wall paint and tapestry provide elegant bedroom wall decor. Dream, fancy or fact – you can paint your emotions through bedroom walls decoration in any way you want.
Bedroom walls have always been experimental subject to blow heart over. It is the favorite pace of one's bedroom where he draws his affiliations and dreams. So, you can get elegant bedroom walls decor now through innovative ideas that will surely ease your choice.
Wall hangings are in numerous styles such as canvas, wooden plaques, metal sculptures or mirrors and can adapt any design of abstract art, paint or Tuscany décor. They are easy to put on wall and easy to change with time that's why beautiful wall hangings are the proper theme to decorate bedroom walls and to create an aura of fancy world around.
Wall murals are larger drapers that cover whole bedroom walls and contain lot of imaginary art work, fantasy or any theme that reflects mood. Men are more interested in sports, romance and love. Their bedroom walls depict flair for life for which wall murals are better idea.
Walls décor tells story of values and considerations that you prefer in life. Wall papers therefore are your source to bring your feelings on walls. Cricket, basket ball, football, cars or flowers-whatever your inspiration is, take it on wall papers and decorate your bedroom walls with them.
Tapestry for decorating bedroom walls
Bedroom walls are central focus of room. If walls there are decorated beautifully whole bedroom gets classical change. Tapestry therefore is visual that seem real taking you on your dreamy journey.
They are available in variety complimenting your mood and life style such as your favorite destinations, places or any movie theme. Tapestry used in cartoon and comic characters on kids bedroom walls make their bedroom more beautiful and relaxing.
So, you can get elegant bedroom walls décor by following any of your favorite patterns on bedroom walls.