Hitting the gym with a buddy sure beats breaking a sweat alone, but there's a big difference between alternating reps and sets with a friend and actually using each other's bodies as fitness tools. If you're looking for a way to mix up your workout, grab a friend and try a few of these challenging alternative partner moves that'll leave you both gassed. 
[contentblock id=1 img=adsense.png]
Agility Quick Feet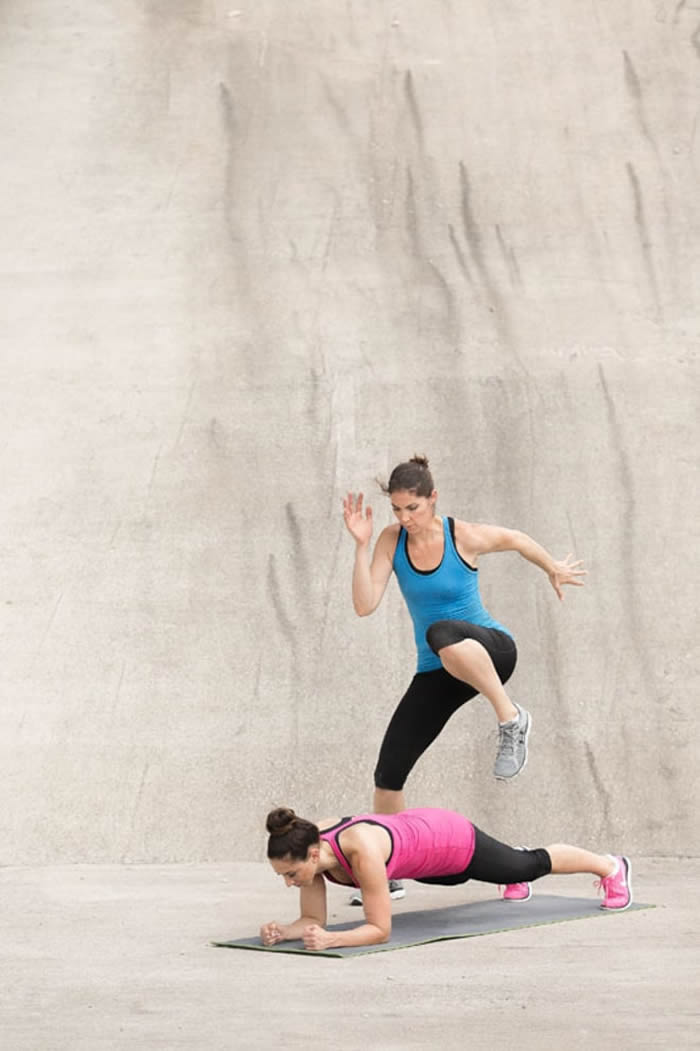 This drill is perfect as an active warm-up. As one partner holds a wide-legged plank, firing up his core, the other partner jogs laterally back and forth between his partner's legs, as though jogging over mini hurdles (just like this football agility exercise). Start by standing between your partner's feet, then step over his right foot with your own right foot. Bring your left foot up and over, then jog left again, leading with your left foot, first stepping between your partner's feet, bringing both of your feet to center. Then jog laterally over your partner's left leg, still leading with your left foot. Reverse the movement, and continue, picking up speed to go as fast as you can. Perform the exercise for 60 seconds, then switch roles. Complete each role two to three times.
Band-Resisted Sprints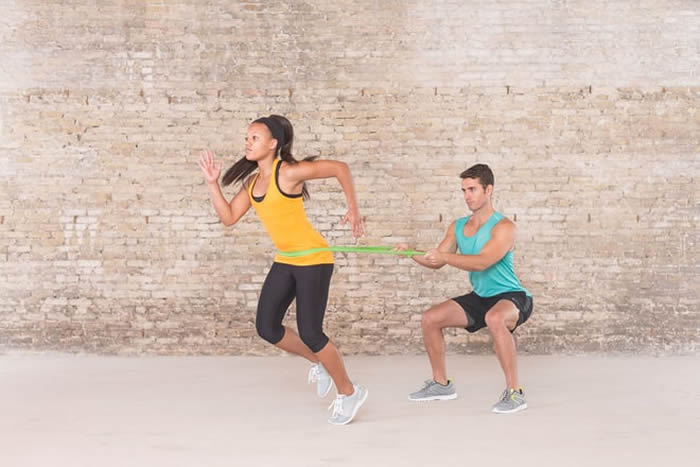 Band-resisted sprints are a favorite of Tyler Spraul, Head Trainer at Exercise.com, because they can help you improve your sprint technique and develop explosive power. Plus, the non-sprinting partner lowers into a static squat position, firing up his quads, glutes, and core, as he uses his entire body to resist the forward motion of the sprinter. To perform the exercise, the non-sprinting partner loops a long resistance band around his partner's hips, grasps each end of the band, and lowers into a squat. The sprinting partner runs in place, leaning forward slightly into the band's resistance, driving your knees high with each step. It should look like this. Spraul suggests after doing roughly eight to 10 steps in place, start to move forward slowly, covering about 10 to 15 yards as your partner walks forward behind you, maintaining his low squat (it should look like this). Switch roles and continue until each partner has performed each role twice. 
Partner Plank and Plyos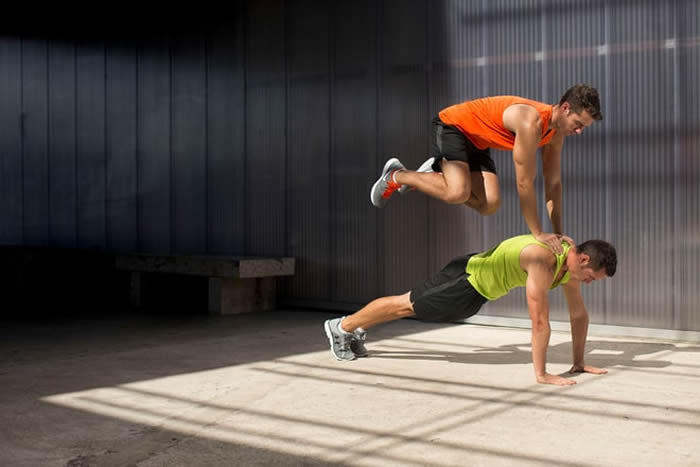 Another partner move to enhance power, agility, and core strength is the partner plank and plyos exercise. As one partner holds a high plank position, the other partner stands to the right side of the plank, leaning forward to place his hands on his partner's shoulders. In an explosive movement, he jumps up and over his partner's body, trying not to place too much pressure on his partner before landing softly on the opposite side. He immediately jumps up into the air again, continuing the exercise. Perform 16 to 20 total hop-overs, then switch positions. Each partner should perform each role twice. 
[contentblock id=2 img=adsense.png]
Double Lunge Seesaw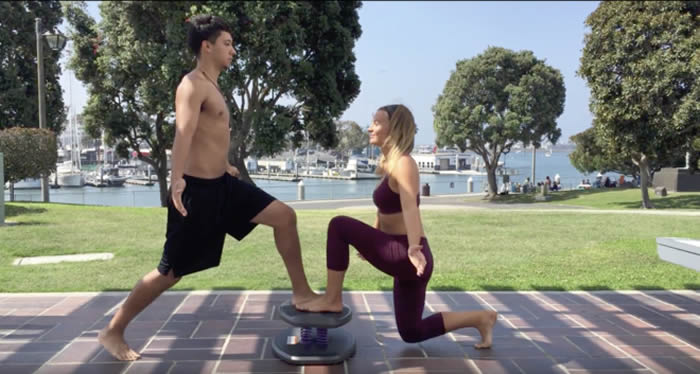 Trainer and certified StrongBoard Balance instructor Rachael Novello loves using the Double Lunge See Saw as a challenging partner move. Stand facing your partner on either side of a balance board. Both of you step forward to place your left foot onto the board, so that you're each weighing down one side, like two people on opposite sides of a seesaw. One of you starts by lowering down into a low lunge, as the other partner remains in a high lunge hold. As the first partner returns to the high lunge, the other partner lowers into a low lunge. Continue the exercise until you've both performed 10 to 15 lunges on the left leg. Rest for 30 seconds, then switch legs. Perform a total of three sets per leg. 
Twisted Push-Ups
Twisted push-ups target your entire body from your head to your toes. As one partner performs a weighted wall sit holding a medicine ball, the other partner sets up in a high push-up position, his legs resting on his partner's legs, and his hands positioned on a BOSU Ball or balance board. The partner in the push-up position performs a push-up, while the squatting partner begins rotating his torso side to side, tapping the medicine ball first to his left, then to his right. The partner doing push-ups completes eight to 12 repetitions as the squatting partner continues the oblique twists. Switch roles and continue until both partners have performed each role twice. 
Band-Resisted Pallof Press Rotation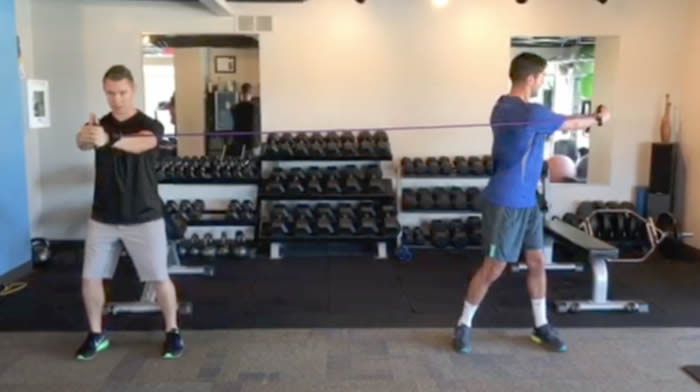 The band-resisted Pallof press rotation is the perfect anti-rotation core exercise to target your obliques, and it's one that personal trainer and host of the Fitness Candor podcast, Eric Feigl, swears by when training his clients. Grab a long resistance band and stand about five to six feet away from your partner, both of you facing the same direction, and each of you holding one end of the band so that it's taut but not tight. Both of you start by bending your elbows and bringing the band to the center of your chest, holding your end of the band with both of your hands. From this position, press your arms straight out in front of you, extending your elbows. One partner then holds the position, resisting any movement, while the other partner rotates his torso away from his partner, creating more tension in the band before rotating back to center. One partner performs 15 rotations before switching roles. Perform two sets per side, per partner. 
[contentblock id=3 img=gcb.png]
Balance Ball Battle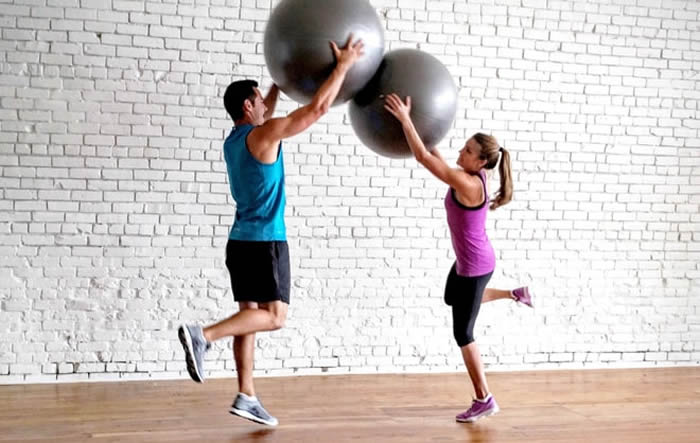 If you're looking to end your balance, agility, coordination, and core strength exercise on a fun note, you can't go wrong with the balance ball battle. Both partners stand facing each other, each of you holding a large balance ball in your hands so the two balls are touching lightly. Both of you lift one foot off the ground, and when you're ready, begin pushing your partner's ball with your own ball, aiming to throw one another off balance. You can move position and hop around, but the first partner to put his foot down on the ground loses the round. Before starting another around, switch the leg you're balancing on. Continue until one partner has won five rounds.