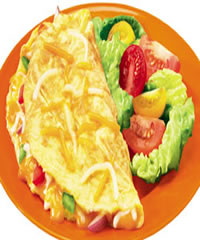 Here is an easy recipe for a lovely Sunday breakfast. It is extremely easy and will make your wife or girlfriend very happy. A Baked English Omelette with either crossaunts or toast along with some orange juice is a perfect idea for a Sunday Breakfast.
Ingredients:
6 eggs — beaten
2/3 cup milk
1/4 teaspoon salt
1/8 teaspoon pepper
1 1/2 cups cheddar cheese — shredded
1 green onion — slice thin
3 slices bacon; cook — crumble
1 tablespoon butter or margarine
1 tablespoon parmesan
add bacon for garnish — optional
Directions:
1. Beat milk in to eggs
2. Stir in seasonings, cheddar, onion and bacon
3. Melt butter in a 9″ frying pan. Pour egg mixture into pan
4.  Sprinkle with Parmesan. Bake at 400~ for 20 minutes or until set and golden
5. Garnish with additional bacon, if desired. Serve immediately.