is is modern horology, and here is a review of the new HYT H4 Gotham timepiece. HYT produces only a few hundred watches per year (according to them, 450 pieces total in 2014), but for 2015, the brand is releasing 13 new models.
[contentblock id=1 img=adsense.png]
That doesn't just include new colors and line extensions but totally new stuff like the recently announced HYT Skull, HYT H3, and this HYT H4.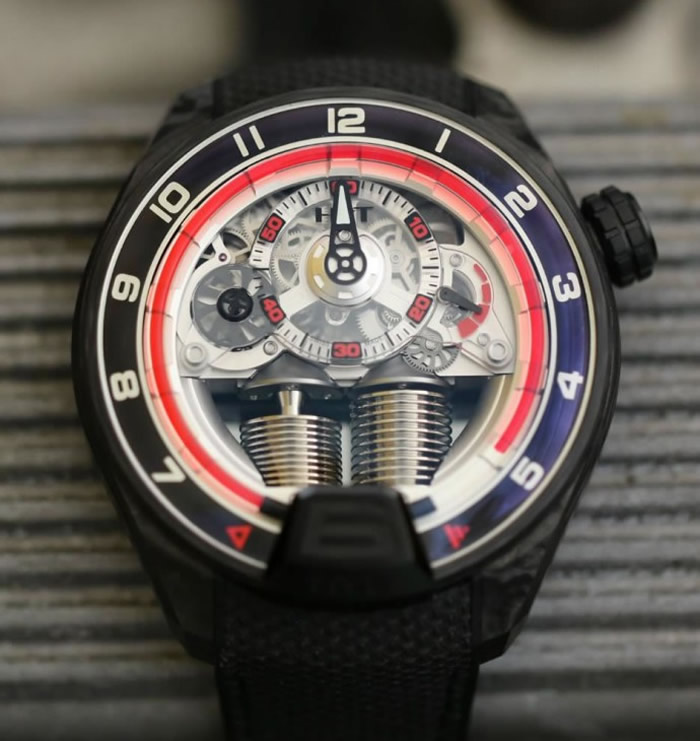 First for the new H4 model family is the black "3DTP" carbon cased HYT H4 Gotham.What is the HYT H4? Well, essentially it is the HYT H1 with a skeletonized movement in the HYT Skull case. The Skull enlarged the already big 48.8mm wide H1 case to 51mm with additional case changes, such as removal of the crown guard.
Nevertheless, here, in this very lightweight carbon material, it doesn't feel heavy or too big on the wrist (even though it is 17.9mm thick).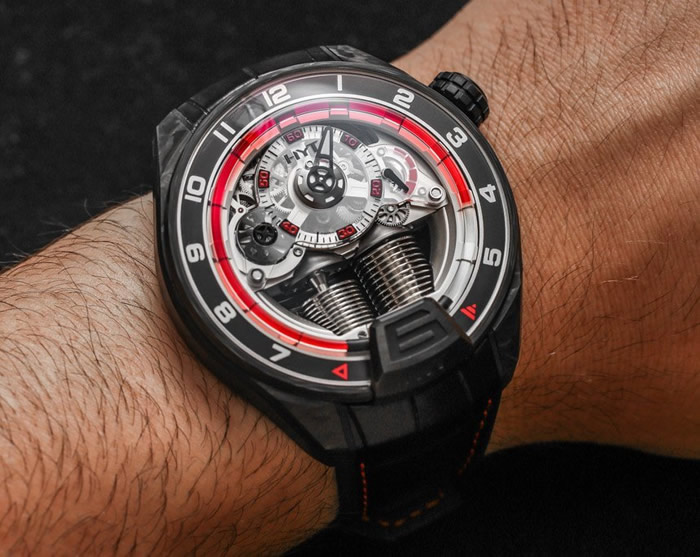 If you are going to wear a large watch, you might as well wear something like this that combines a radical design with a cool movement that you really want to see in action. If you are new around here and haven't heard of HYT yet, the point of the brand is to use liquid to help indicate the time. 
[contentblock id=2 img=adsense.png]
This HYT H4 Gotham uses red-colored liquid in the specially developed tube and bellows system to indicate the hours. A more traditional hand on the dial indicates the minutes, while it is flanked on either side with a subsidiary seconds dial to the left and a power reserve indicator to the right.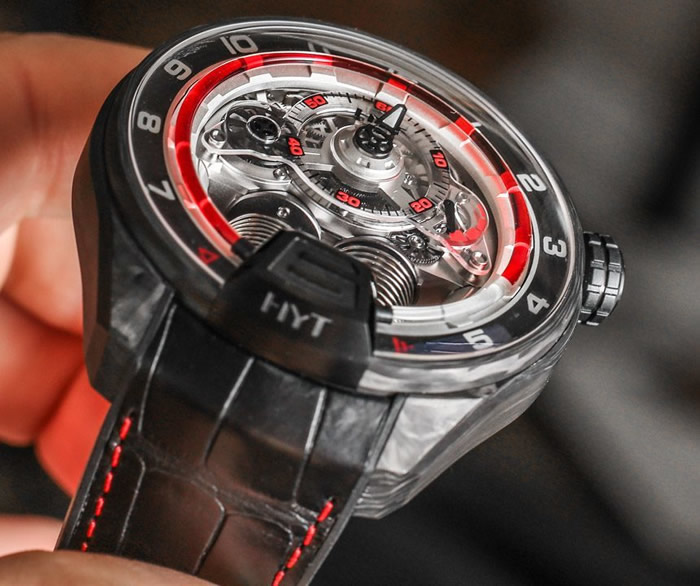 That feels like a line extension versus something that merits a totally new model family (which I hope tends to imply new case, dial, and movement). This is important because I want HYT to preserve its great persona and ability to generate hype thanks to talented CEO Vincent Perriard.
Again, while this is a super cool timepiece, I think that each new HYT "H" watch line should be totally unique. A minor issue, though, and related more to brand marketing decisions versus the product itself.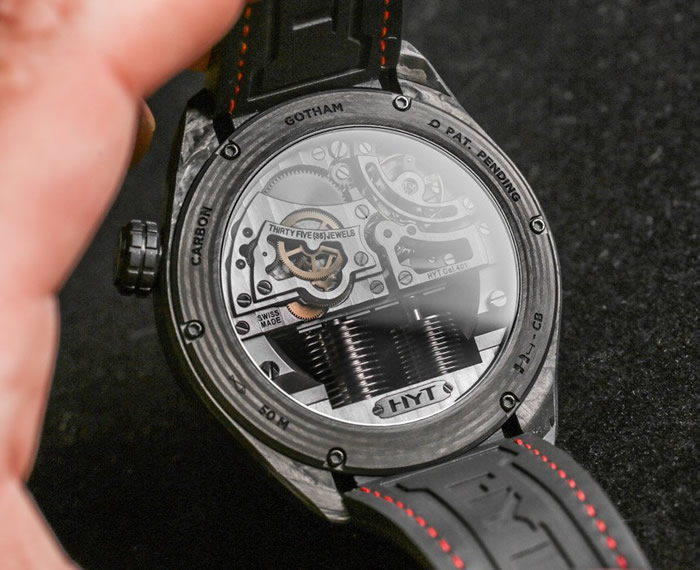 Not that the H1 watch's movement wasn't at all skeletonized, but the HYT H4's movement steps it up a notch with a sapphire crystal plate serving as much of the dial over some movement bridges. I've been a big fan of HYT since they debuted a few years ago and continue to be really bullish about the brand. If you are into modern mechanical watches with bold, futuristic designs, HYT should be one of the brands on your list to look at.
[contentblock id=3 img=gcb.png]
Seasoned collectors should have at least one thing by HYT in their collection – if anything, for how unique the movements are and the liquid indication of the time. HYT is producing the HYT H4 Gotham ref. 151-CB-03-RF-RN as a limited edition of 50 pieces.