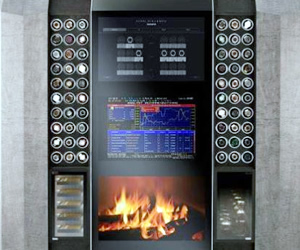 When you buy them expensive, you definitely got to keep them safe. This is one mantra that most luxury product owners would swear by especially, if they have their special collection of watches, cigars, or any other kind or exclusive jewelry. The Kudoe Schli Matz watch, a brand new company has surprised everyone with their very first offering, a winding cabinet that caters to numerous needs at once including a luxury watch winder, mini-fire place, TV screen and music system, and even a cigar humidor all built into a single unit! Though most luxury products are meant for performing a limited set of functions, the Gigantis defies that mindset, and combines numerous luxurious functions on a common platform.
What strikes us the most, the unique modern yet classy appeal of the device. The mauve brown outer covering with the black central unit oozes a feeling of modern design, without making any loud statement of outlandish design. Added with the height of 2.10 meters in height, and 1.8 meters in length, this watch cabinet is indeed an imposing figure, and a stylish one which could be placed as a central piece in your room. Just a click of a button, or a few switches on your Smartphone, and the Gigantis is unveiled in full bloom. 42 individually created slots are available for mounting your precious timepieces, made of stainless steel. In most cases they slots can be programmed to take care of the watch winding individually. Other than that, there is a cigar humidifier that shall enhance and preserve your cigars for a long length of time. In case entertainment is what you seek, the built in TV screen is there to watch movies and video, or even listen to music, which also falls under the category of remote control functions possible to control through your smartphone. The German brand seems to have taken inspiration from the legendary safe makers Dottling, and we are wondering whether the company actually has some correlation with this newly found brand?
After the functionality, one also has options to choose from, with reference to the fabric used for the cabinet. Whether its fur, metal, or even carbon fiber, the maker of the cabinet can be informed in advance, and the perfect configuration of material may be used.
Also, do check out some previous masterpieces from the same including the Bespoke Lagerfeld & Doettling edition, and the Jaeger Lecoultre Hybris mechanica. These is what you need to keep them safe, and looking stylish always. – bornrich