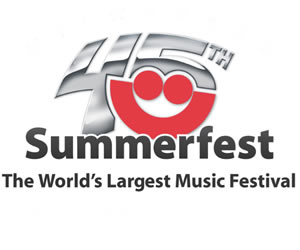 Summerfest is a music festival, celebrated every year at Milwaukee's lakefront in North America. The creator of the festival was Henry W. Maier. According to Henry the purpose of the festival is to offer low-cost entertainment to the general people of Milwaukee and the surrounding areas, and bringing the community together. Summerfest usually begins in the month of July and last for 11 days. It is also known as Big Gig. This year 2012 the world famous festival will celebrate its 45thAnniversary. Since 1968, Summerfest has provided remarkable live music experiences for fans from around the world. Summerfest opens every day from noon until midnight.
A great Entertainment for Everyone
Summerfest claims the title of largest music festival; here people can enjoy bulks of music of every kind with live performances on eleven stages on the festival. One can discover new musicians and the ways of singing.
But that doesn't mean music is the only reason to go. In fact, for some people it's not even the main reason to attend the summerfest, there's lots of interesting things to enjoy like the food and drink, the interesting people, the kids' activities and shopping also.
At the festival the notable entertainment is musical performances on the eleven stages. Each of these stages has music being performed all day by various bands and the youngsters can enjoy rock and roll, country, jazz, soul, polka, rap, etc. This is also a drinking festival for a lot of people. And the festival has huge variety of beers and other sorts of drinks.
In festival the kids may enjoy by playing in playground, there are magic acts, a midway with rides, contest, Lego lands, sports activities. There are shopping areas all over the grounds which consist of tents displaying clothes, food, jewelry and toys for kids.
Summerfest is a festival for all young to old. The old people may also find it an entertainment of their interest. As it is a music festival and if old people have the musical interest in any area of music can enjoy the live performances. Other than music they can also enjoy the theater, food and shopping here.
Additional information to safely enjoy the summerfest
Don't bring kids to this for more than Two hours. The big and the mostly drunk crowed may be dangerous for the kids especially for the babies.
On a hot summer day, you have to accept that you are going to be baking in the sun. Make sure you apply some sun block.
Daily promotions are available to take part in discounted admission to Summerfest. So before buying tickets you must have a look on the official website to get free or discounted tickets.
Pets and alcohol are not allowed.