In response to our recent Top 10: Big Ships, reader rightly chastised us for centering on cruise ships. The world of mega-yachts offers a much more tantalizing field of absurd entries. After all, there is wealth, and then there is mega-yacht ownership.
[contentblock id=1 img=adsense.png]
Octopus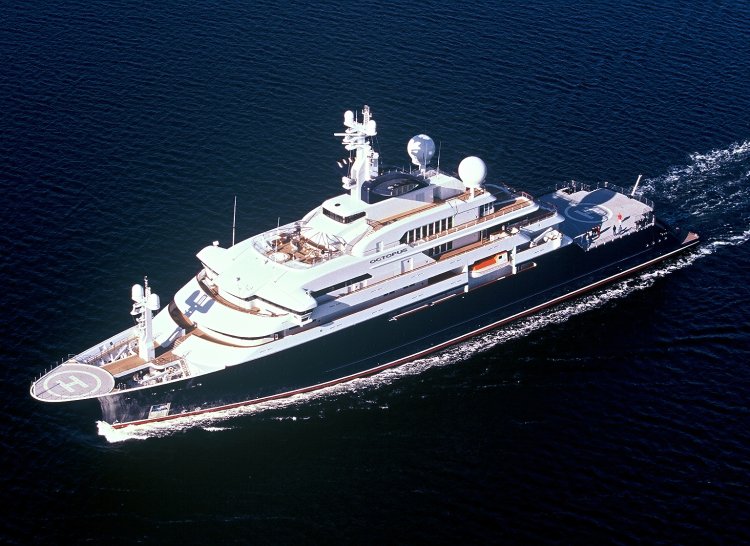 Microsoft cofounder Paul Allen owns the Octopus, a mega-yacht that stretches 414 feet long and could easily be mistaken for a cruise ship. The Octopus has two helipads — and helicopters — a large pool, a basketball court, and even a pair of small submarines, one of which can actually house eight people for up to two weeks underwater. But the most outrageous feature of the Octopus is the word that its crew of 60 includes ex-Navy SEALs. Good to see all that expensive government training gone to the cause of mixing martinis and fluffing pillows for Paul Allen and his guests.
Rising Sun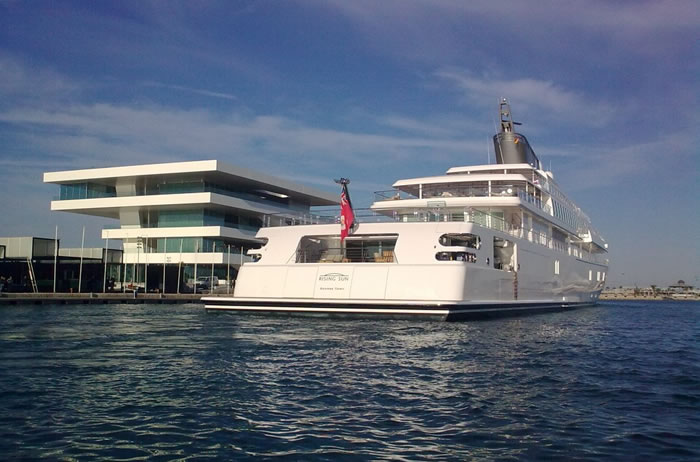 Billionaires have the same problems as the rest of us. Take Larry Ellison, CEO of Oracle: After buying his mega-yacht, the Rising Sun, he came to that all-too-common conclusion that it was just too big. Been there, done that. At almost 453 feet long, Ellison should have known he wouldn't be able to dock it just anywhere, but that probably didn't matter. The important thing was that it was the longest when it was built. For a few months, anyway. Now it's new owner David Geffen's problem, a problem that includes nothing phenomenally outrageous, just a laundry list of impressive amenities. Amenities like a basketball court, eight staterooms, 82 rooms, a decorative stone wall that rises up through the middle of the yacht, a Jacuzzi, a wine cellar, glass and brushed-chrome staircases, a sitting room with a wood-burning fireplace, curved floor-to-ceiling windows lining two of the decks, and a crew of 30 to wait hand and foot on Geffen and guests.
Savarona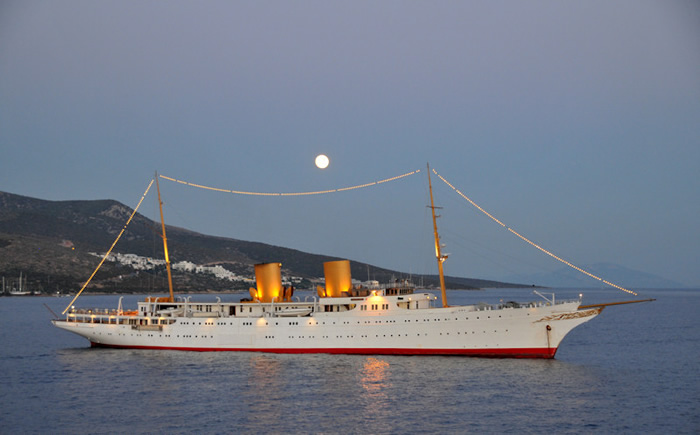 The Savarona is the oldest yacht on our list. Despite being thoroughly Turkish, the Savarona was originally commissioned by the granddaughter of John Roebling, designer of the Brooklyn Bridge. Built in 1931, it is 408 feet long and has a staggering 17 staterooms. A 282-foot-long staircase, highlighted by a solid brass balustrade, connects the yacht's shelter deck to its upper deck. An onboard hospital and a crew of more than 40 deliver five-star service, which is only appropriate when you're chartering it at around $500,000 per week. Yet the Savarona's most outrageous feature is its traditional Turkish bath, known as a hammam, made from 260 tons of marble.
Guilty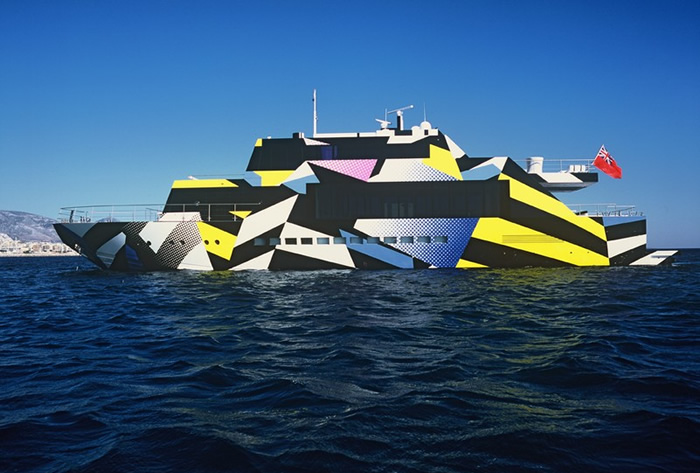 Believe it or not, if you Google "ugliest yacht in the world," you will not find a thousand hits pointing to the yacht Guilty, even though in our eyes it's precisely what you should find. Guilty, which looks like it was made from a LEGO set commemorating The Fresh Prince of Bel-Air, is owned by Greek billionaire art collector Dakis Joannou. Its most outrageous feature is the exterior design, done by contemporary artist Jeff Koons. Koons is famous for kitsch sculptures, was married to porn-star-turned-politician La Cicciolina, and was the top-selling artist at auction in 2008, where his work sold for an unfathomable $117.2 million. Maybe you bought one of his full-size porcelain statues of Michael Jackson getting fresh with Bubbles the chimp. No? Someone did, for over $5 million, which is its own bit of outrageousness.
[contentblock id=2 img=adsense.png]
Mirabella V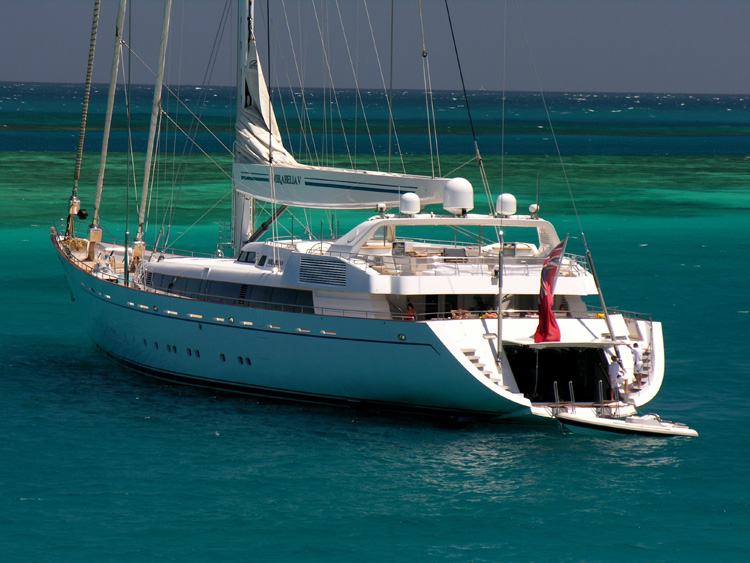 The 247-foot-long Mirabella V is a cutter-rigged sloop, making it the only sailing yacht on our list. But its most outrageous feature — its only outrageous feature, really — nicely symbolizes the current arms race among the super-wealthy to build the biggest mega-yacht.  In addition to a gym, sauna and a dining room that seats 20, the luxurious Mirabella V is the largest single-mast sailing yacht in the world, equipped with the tallest mast you'll find anywhere — a phallic symbol on the ocean waves if there ever was one. The towering 292-foot mast prevents the yacht from fitting under the likes of the Golden Gate Bridge. For this reason, it keeps to locales in the Mediterranean and the Caribbean.
Al Salamah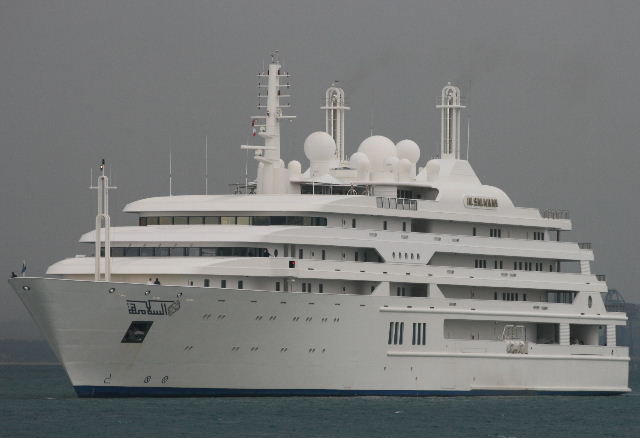 To the uninitiated, the Al Salamah's design and sheer enormity lead to an inescapable — and incorrect — conclusion that it's a cruise ship. At 456 feet long and rising eight decks high, the mega-yacht Al Salamah is owned by the Crown Prince of Saudi Arabia, Sultan bin Abdul Aziz, who also holds a number of government posts including that of defense minister. The details of the yacht's decks and interior remain closely guarded secrets. Rumors of 80 rooms, indoor swimming pools and an onboard hospital remain just that — rumors. Precious little has leaked out, despite the yacht's most outrageous feature (if true): the 96-person crew, likely the biggest in the world.
Christina O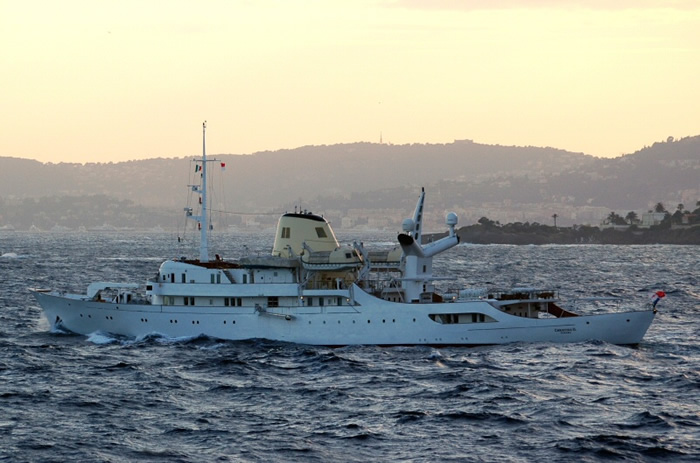 In its heyday, the Christina O was the most famous yacht in the world. The ship was a Canadian naval frigate that saw action on D-day in World War II, but Greek shipping magnate Aristotle Onassis turned it into a playground for the biggest celebrities and most powerful men in the world, from John F. Kennedy and Winston Churchill, to Liz Taylor, Richard Burton and Marilyn Monroe. In 1998, another Greek shipping magnate acquired the yacht and set about to rebuild it in the style of the original, featuring a formal dining room that seats 40, a massage room and beauty salon, porcelain by Bernardaud of Limoges, Waterford crystal by Rocha and original works of art by Renoir and Le Corbusier. However, the most outrageous feature is a bronze-bordered pool inlaid with mosaic frescos of ancient Crete which, at the push of a button, rises to deck level and becomes a dance floor.
3 A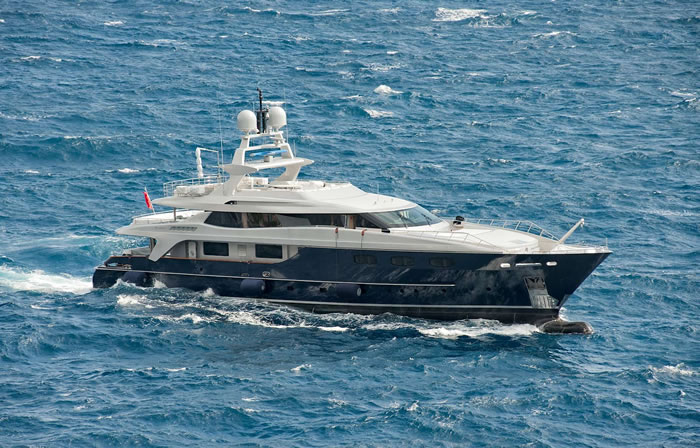 This is the yacht you get when you search Google for the "ugliest yacht in the world." Granted, A (yes, that's just the letter A) may not be the finest work by world-renowned designer Philippe Starck, but it is his — from the reverse bow design, to the lavish interior, to the outfits worn by the staff of 35. Built for young Russian billionaire Andrey Melnichenko, the 390-foot mega-yacht is mysteriously absent of open deck space. Instead, it's especially devoted to Andrey, without much in the way of entertaining others. To that end, most outrageous is the alleged master suite: a whopping 2,583 square feet, surrounded on all sides by bulletproof glass, accessed by taking a silver-plated staircase, and accessible only if you can get by the fingerprint scanner.
Ocean Breeze/Qadisiyah Saddam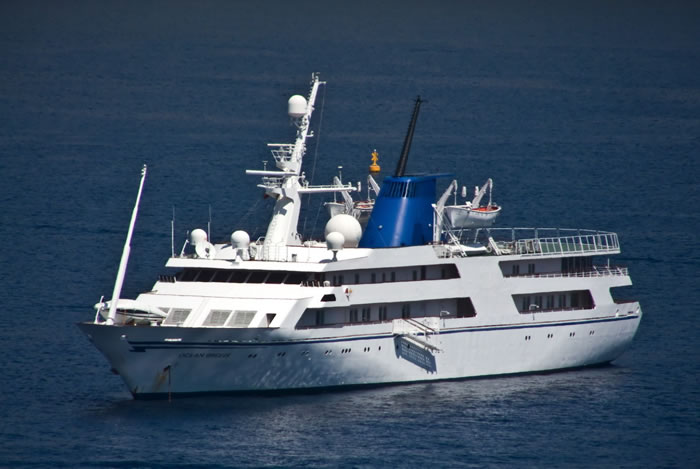 The Qadisiyah Saddam — now known as the Ocean Breeze — was built for its namesake, Iraqi dictator Saddam Hussein, so you know right away this thing is not going to be just outrageous, but also something of an outrage. Said to be sumptuously decorated with multiple staterooms, gorgeous salons, solid gold fixtures, indoor pools, saunas, a helipad, and bulletproof windows, the yacht was built in 1981, at a time when Saddam's country was at war with Iran (one example among thousands of Saddam's selfish and poorly timed abuses of public funds). It's of little surprise, then, that the yacht is said to be equipped with a missile launching system (perfect for any military leader on the move) and a mini-escape submarine (perfect for any cowardly leader on the move). But with all this in mind, perhaps none of the features of the Qadisiyah Saddam is as outrageous or hypocritical as the prayer room.
[contentblock id=3 img=gcb.png]
Eclipse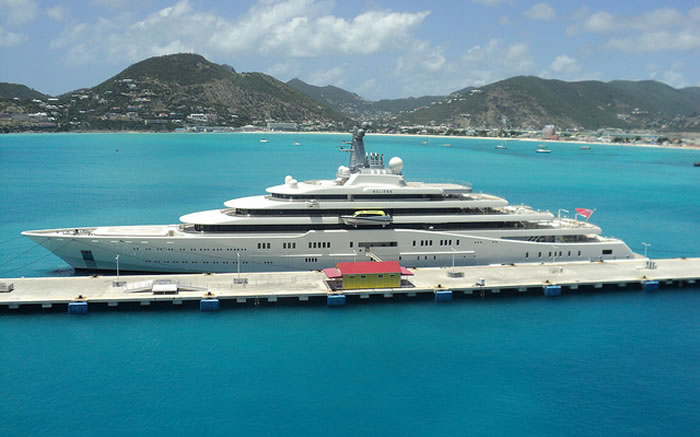 In the Eclipse, several superlatives come together to make for what must be regarded as the most outrageous privately held mega-yacht in the world. Built for and owned by Russian billionaire Roman Abramovich, the outrageousness began before it ever hit the water, when builder Blohm & Voss allegedly agreed to build the vessel for about $485 million. Final cost: $785 million, making it the most expensive yacht ever built and giving Abramovich $300 million of free mega-yacht. At 531.5 feet long, the Eclipse is the biggest yacht in the world. Not unlike the mega-yacht A, owned by Roman's pal Andrey Melnichenko, the Eclipse is believed to have several secret exits as well as underwater access by way of a minisub, allowing Abramovich to enter and exit without being seen. Finally, the Eclipse features an absolutely gargantuan and unprecedented 5,000-square-foot master suite that includes, among its endless amenities, a private garden.