Bryan Bishop apprehended alongside his wife Tonya Bishop, stands accused of deploying a chemical irritant against two officers during the January 6 unrest.
The FBI recently arrested a couple from the Keys on allegations stemming from their involvement in the Capitol riot on January 6, 2021. Bryan Bishop, 51, and Tonya Bishop, 47, were detained in Marathon on Monday night and made their initial court appearance on Tuesday.
Sean Cannon, the Ports Director for the City of Marathon, where the couple had been residing on their boat in a marina, mentioned, "They were anticipating the arrest." He described the Bishops' arrest as peaceful, noting that they calmly approached the arresting officers without any attempt to flee.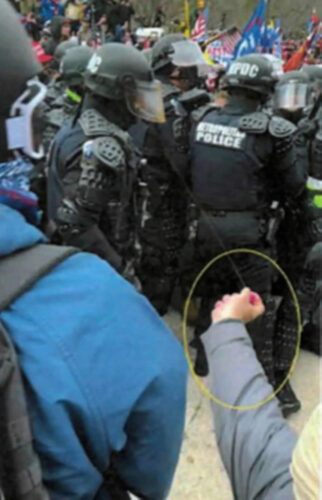 Evidence from video footage presented by the FBI indicates that Bryan Bishop assaulted two officers from the Washington D.C. Metropolitan Police Department with a chemical spray during the riot. A distressing account from the complaint states that one of the officers temporarily lost his vision due to the assault and required assistance to reach safety.
The list of charges against Bryan Bishop includes assaulting police officers with a potentially lethal weapon, trespassing, and engaging in violent acts within the Capitol. Meanwhile, Tonya Bishop has been implicated in video footage from inside the Capitol on the same day. She faces misdemeanor counts of trespassing and disorderly behavior.
The complaint also unveils a phone call made by Tonya Bishop to her stepson, who was incarcerated at the time, on January 4, 2021. She reportedly informed him of their plans, saying, "On the 6th, Trump has summoned The Patriots. Many of us are gearing up to head there."
The legal proceedings for the Bishops are now set to progress through the judiciary.
The FBI has confirmed the arrest of approximately a thousand individuals in relation to the events of January 6th.