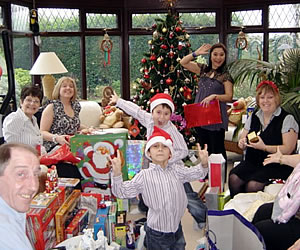 Christmas celebrations are long awaited and planned for. Christmas is a special  time of the year because of the joy and the magic the holiday season brings into our lives. Christmas with family means home decorating activities, family and friends gathering, sharing the joy and happiness along with the gifts and having just fun!
The hustle and bustle of routine life, hectic and heavy work loads, an extreme monotony of everyday donkey work and long distance driving keeps us on our toes the whole long year. Christmas with family is therefore not less than a real break, direly needed at this time of the year, in the midst of grey, freezing and chilling winters.
Think about the time when you are preparing for the Christmas with family, getting the tickets reserved, packing up and exchanging the big big hugs with all the siblings and other family members. Then comes the Christmas celebrations preparation, the home decor, Christmas parties, arranging and decorating the Christmas tree, planning for the cooking items, going shopping, buying gifts for your loved one. All these activities have a warmth of love that isthe most cherishing.
The charm of Christmas celebrations is just in being together with the family. The holiday festivity might never touch an ecstatic state when one is alone. Celebrating Christmas with family is a real add on for the holiday mood. Its a time when you don't have to bother the alarm clocks, no need leaving your cozy and warm quilt, pampering yourself and letting yourself go for the fun part lying in Christmas celebrations and parties.
Christmas preparations might seem a bit boring, such as cleaning the house, arranging for the family accomodation, giving your home a new look, cooking, cooking and just cooking, putting Christmas decorations everywhere and much much more. Yet its fun as you feel naturally good when you are with your loved ones. It induces a new spirit and enthusiasm in you that you feel emotionally elevated when having a Christmas with family.
Christmas with Family – Celebration Ideas
We recommend that you should plan for a family outing this Christmas. Have a day out where the sun shines on you leaving you feel refreshed in the snow cold. This way, your Christmas celebrations might become life time memorable.
Once you are done with all the cleaning and making your home ready for celebrations, you need to ready yourself up. What better way than to treat yourself along with your friends to a spa and enjoy some refreshing facials, massages and hair therapy.
Arranging for a one dish party can make your Christmas celebrations memorable. You can invite your guests to pick their own theme to prepare their Christmas dish and dress up according to their chosen theme. Each guest would be bringing in their dish to share with others at the party. This is great fun as you'll end up seeing various characters and tasting traditional and modern Christmas cuisines.
You can make the Christmas tree trimming and decoration a fun party too. All the family members can decorate it together. Where there are small kids, you can engage them in their art and craft activities and finally display what they make on the tree. Don't forget the lighting when arranging a Christmas tree for Christmas celebrations as it doubles the beauty of the tree. Use lots of lighting and restrict candles to areas where people don't walk much and away from childrens' reach.
We hope your Christmas with family is a time for your wishes to come true. And you always stay united with your family and keep celebrating Christmas with family for years and years to come!!