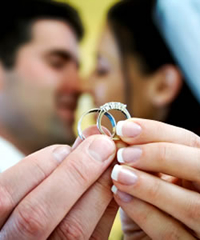 Marriage is a lifelong commitment that needs devotion of both partners. Men usually take the love and affection of their partners for granted that creates troubles in a relationship. I have discussed a few tips for men that men can use to bring a spark to their marriage.
If you are going to get married, or have been married for a long time, you must consider the following tips for a smoother relationship. The most important point of a successful marriage is that your women love you and for that not much effort is needed. Showing loyalty is an underlying part of any relationship to work. Men are generally less trustworthy than women. If your wife distrusts you, all your effort for a quality relationship will go in vain. So be loyal and fair to her and show that by taking interest in her matters and not bothering with other women's matters especially when she's around. Secondly, help in household chores. It shows that you care.
Only this single tip can be of great help in your relationship because wives really love it when their husbands share their responsibilities at home. Men who have been married for a long time often lose interest in their women. It's not a problem, it's just nature. The key is to ignite the passion in your relationship again. Flirt with your women. It will be most charming to them even twenty years after marriage. You will see the lost spark of your relationship returning. Also, it's a trick for a pleasant disposition. In addition to the physical attraction, the partners need to have mental compatibility for a smoother relationship.
So, take out time even if the schedule is tight. Go for dinners, watch movies and talk inadvertently for hours. This will give you a chance to explore your partner better. But with women, you must always speak less, listen more.  For a happy marriage, you must develop a habit of listening to your wife's unnecessary chinwag. This may give you a headache but to them it is blissful to have a husband to whom they can speak their heart out.  So be their best friend, best company. Lastly, an important tip for a successful marriage is to appreciate your women. This will only encourage them to keep you happy with whatever they do. This way, you will have least troubles in your relationship.