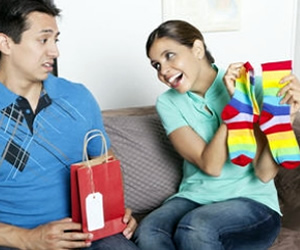 Valentine's Day is just on the head and love birds are planning and shopping for the special day. You sure want to buy your valentine a special valentine gift as per the norm of the occasion. The biggest blunders that people make are that they buy others the valentine gift that they love. If the receiver is just like you, he might love it, but if he isn't then your special gesture may even put him off. So you better know the worst gifts for valentine so that you never pick them.
While perfume is considered as a valuable gift, the deodorants and roll-ons are one of the worst gifts for valentine. You may embarrass your dear valentine by presenting this valentine gift. Good fragrance gifts include perfumes, other scents and even scented candles. So never make you valentine think that they smell bad or need a deodorant by choosing this valentine gift.
Electrical appliances and other power tools are also worst gifts for valentine. You need to be expressive through you gifts and such valentine gift would save your valentine some money but would not lead to know your passion.
Moreover, never buy cheap accessories as valentine's gift. This is one in 360 days when you are shopping for you loved one. Be specific and chic in choosing the accessories because your valentine is going to keep it with them forever. Some of the worst gifts are mugs and cheap jewelry with hearts on them.
The worst valentine gift ever would be a sex related gift. Lingerie or any other item that shows your desperation about sex is going to collapse your image. Valentine's gift is about true feeling and eternal love and not sex.
Another valentine's gift that will crumple your image is books! Self-improvement books or even relationship guiding books may give out an impression that your valentine is a little screwed and needs to work on his/her personality. That's why books, that are a great gift otherwise, are considered a worst gift on Valentine's Day.
So, never pick on these items for valentine gift as they can put a question mark on your feelings for your valentine. They are the worst gifts because they fail to accomplish the purpose of the day that is to convey true and passionate feelings.