Actor Aaron Taylor-Johnson and director Sam Taylor-Johnson have been married since 2012. They met through the 2009 movie "Nowhere Boy," which starred Aaron and was directed by Sam. They have two daughters together, in addition to two daughters from Sam's previous marriage.
Actor Aaron Taylor-Johnson, 30, and director Sam Taylor-Johnson, 54, have been together for more than a decade.
The pair, who have an age difference of 23 years, met through the 2009 film "Nowhere Boy" and have spoken about their long-lasting romance in various interviews.
Here's a complete timeline of their relationship.
2008: They met when Aaron auditioned for the role of John Lennon in 'Nowhere Boy,' Sam's feature film debut
Their exact ages at the time of their first meeting remain largely unclear.
Various publications have stated that he was 19 and she was 42 when they made the movie, which was released in 2009. The Hollywood Reporter said that Aaron was 18 at the time. Fans have speculated that she knew the actor when he was younger because she was a family friend, but the claims appear to be baseless.
According to The Telegraph UK, Sam and Aaron met at the audition in 2008, a year prior to the film's release.
In a 2017 interview with The Sunday Times UK, Sam (née Taylor-Wood) said the couple almost didn't meet because Aaron was only available to audition on a date that she was absent.
Aaron had a limited schedule because he was filming "Kick-Ass." Meanwhile, Sam and her first husband, an art dealer named Jay Jopling, had split after 11 years of marriage and she was moving out of their shared home on the day that Aaron was free. So, Aaron auditioned for the biopic at her house.
"It was so inconvenient," Sam said. "In the end, I was like, 'OK, he'll have to come to my home.' I opened my door to John Lennon. I instantly knew he was the guy."
Sam's divorce from Jopling, with whom she shares daughters Anjelica and Jessie Phoenix, was made public in September 2008. Anjelica Jopling also had a small role in "Nowhere Boy" as a younger version of John Lennon's sister, Julia.
Sam told The Telegraph UK that she was immediately impressed by how much Aaron prepared for his audition.
"I could see how much research he'd done already just by the way he was standing and the few words he said," she recalled.
Aaron later told Harper's Bazaar that he still remembers how Sam looked at that first audition.
"I remember it very, very clearly," he said. "I know exactly what she was wearing. This white shirt that she still has, that I love. It definitely changed my life, though not in the way I expected."
Aaron has spoken out about their age gap multiple times. Speaking to The Telegraph UK in 2019, the actor said: "When I met Sam I'd already lived a life far beyond that of most of my contemporaries – I didn't relate to anyone my age. I just feel that we're on the same wavelength."
The stars said that they kept things professional on the set of their movie
"We had this intense connection," Sam told The Sunday Times UK of working with the young actor.
"He was very intense and absolutely mind made-up," she said of how their relationship blossomed.
The director also told The Telegraph UK that they clicked from the start.
"We were very professional through the entire film," the couple told Harper's Bazaar in 2019. "No funny business at all."
Sam also said that "everyone on set knew" that they had a connection.
2009: Aaron proposed to Sam after wrapping the film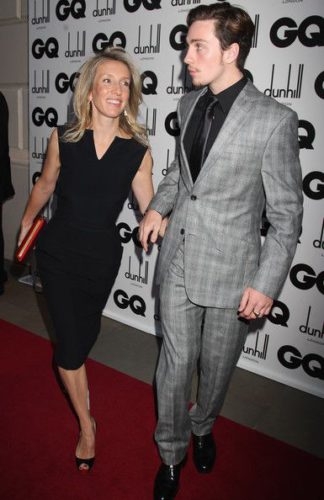 "As soon as we finished, he told me he was going to marry me," Sam told Harper's Bazaar. "We had never been on a date, or even kissed."
"And a year to the minute after we met, exactly one year to the minute, I got down on one knee and asked her to marry me," Aaron said.
The actor later reflected on their engagement in an interview with The Telegraph UK, saying: "I knew instantly that I wanted to spend the rest of my life with this person."
He added: "I knew I wanted a family with her, I knew I wanted kids, and a month later she was pregnant with our first child."
Their engagement was announced by Sam and Aaron, then 19, at the UK premiere of "Nowhere Boy" in fall 2009.
April 2, 2010: Aaron spoke about fatherhood during an appearance on 'Friday Night With Jonathan Ross'
The interview occurred while Sam was pregnant with the couple's first child. Aaron said that he wasn't nervous because he was already acting as a step-father to Sam's two daughters from her first marriage.
Sam was 43 and Aaron was 20 at the time of their baby girl's birth. According to People, Wylda was born in London.
March 4, 2011: Sam directed R.E.M.'s music video for "ÜBerlin," which starred Aaron
The track was from the band's 15th studio album, "Collapse Into Now," released that year. The entire video showed Aaron dancing through the East End of London.