MILAN (AP) — Go ahead and relax: Next season's menswear fashion will be easy to wear and at times even athletic without requiring, or necessarily even inspiring, actual exertion on the part of the wearer. Sportswear has inspired many looks showing up on the Milan runway during Milan Fashion Week, on its second day Sunday.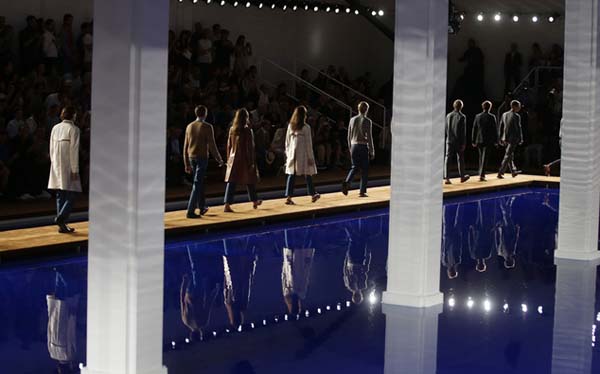 Jackets are a mainstay and run the gamut from longer overcoats to short bombers. Trousers are just as easily pleated as cropped and close-fitting. Bermudas are the shorts of choice. Favorite shoes are sturdy sandals, snug, sure-footed slip-ons and high-top sneakers. Still, this being luxury fashion, the outfits are intended for urban exposure and not rugged adventure. While Day 1 featured an explosion of color, designers on the second day of fashion previews seemed to favored paler, washed-out shades. High-tech fabrics give a low-fuss look, where crinkles and wrinkles are part of the garment's appeal. Milan Fashion Week continues through Tuesday, before the fashion crowd moves on to Paris.
PRADA CLASSICS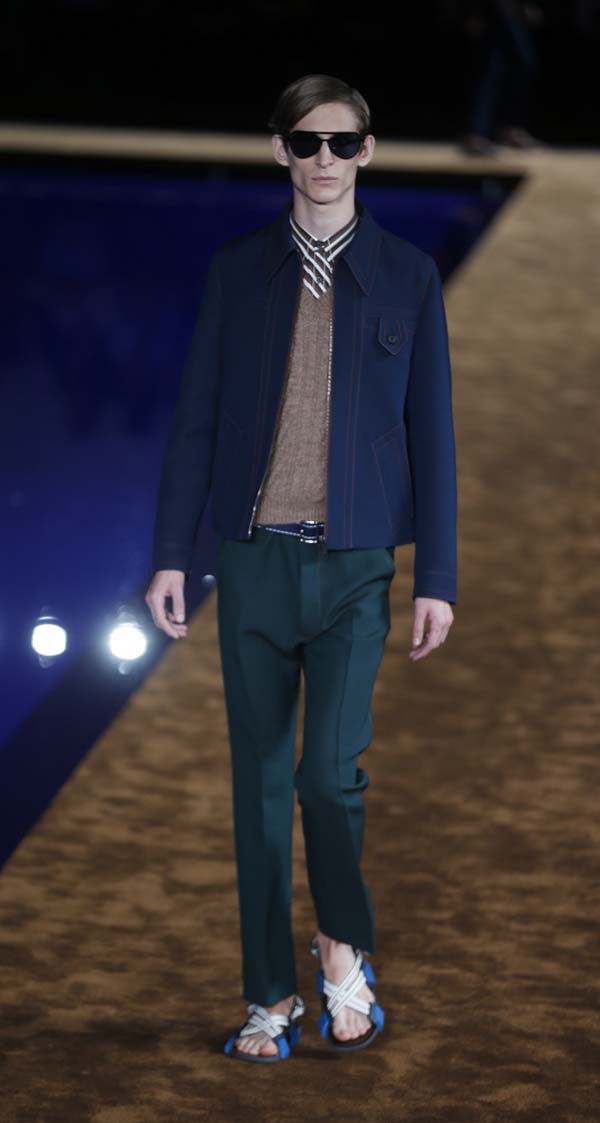 At Prada, nothing says summer like classic denim looks and an azure blue swimming pool. Miuccia Prada said she decided that conservative looks "were the only new thing possible," also given that the times — certainly in Italy, which is still looking to get out of the economic doldrums — require "seriousness." The collection's foundation was classic denim looks with top-stitching, the only embellishment, for a 1970s vibe. "Prada classics," the designer dubbed it. Prada kept the elements simple, from the color palate of blue, brown, dark green and beige, to the clean lines of the jackets, trench coats and blazers. Most looks were finished with a simple, light blue shirt — reflecting the azure waters of a swimming pool with white columns created by Rem Koolhaas' architecture firm at the center of the showroom.
ITALIAN TAILORING DECONSTRUCTED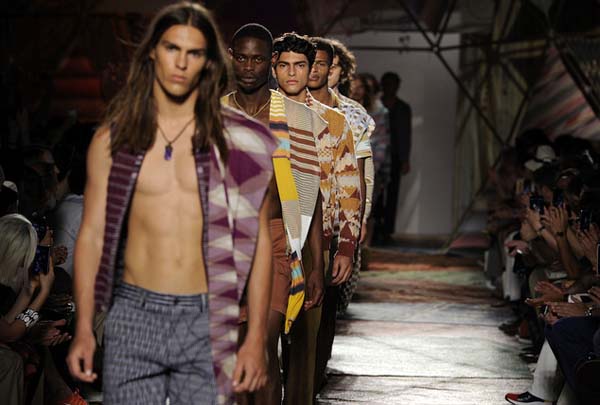 The relaxed silhouette of the Salvatore Ferragamo menswear collection for next summer seems almost to deny the traditional tailoring that created it. Massimiliano Giornetti defined the silhouette as "light" and "deconstructed," and said he used fine Italian fabrics as the starting point for his inspiration. "Everything has been overprinted to create a kind of new silhouette that is extremely light, extremely modern and fresh," he said. A giraffe pattern provides a light-hearted motive to jacket linings, cheekily visible on rolled-up sleeves.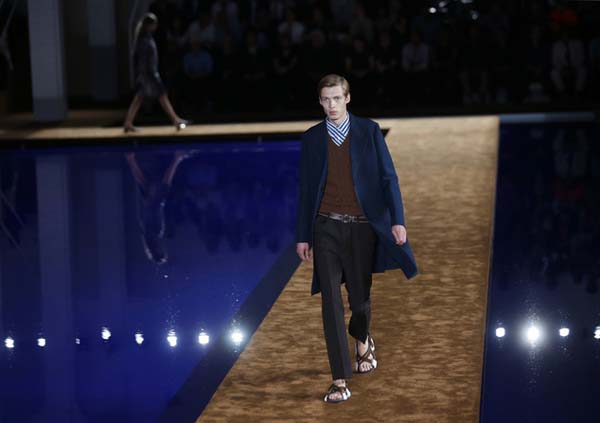 As if to emphasize the fluidity of the looks, the color that unites the collection is an aqueous blue-green, which matches soothingly with earthier tones of rust, gray, brown and beige. The collection centers on sportswear, with a variety of jackets from longer overcoats, double-breasted jackets that are slightly cropped, short belted blazers and blousons that function as a baseball jacket. They are worn with double pleated trousers or loose-fitting Bermudas.
RECLAIMED TREASURES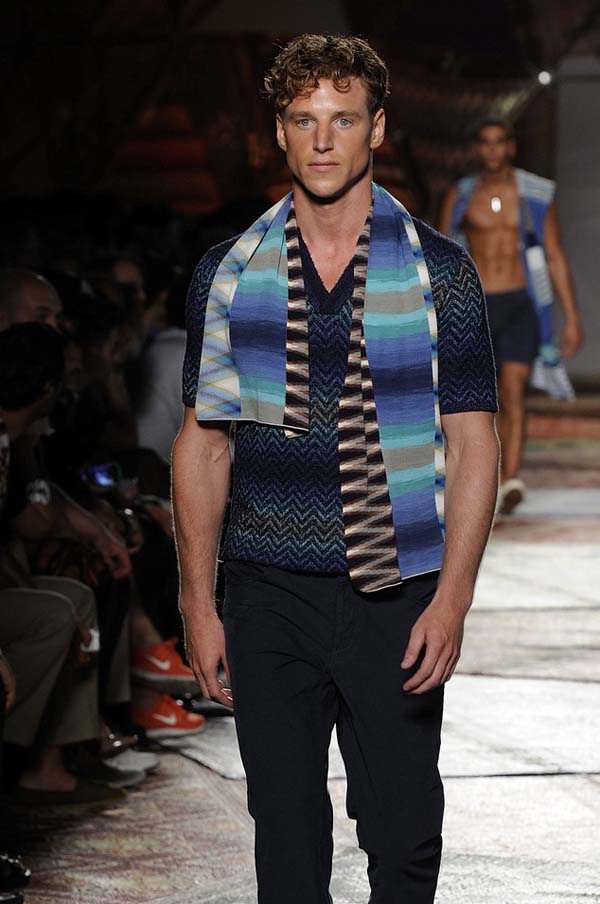 Bottega Veneta's lovingly distressed looks for next summer are like old treasures rediscovered. The looks have a relaxed feel, from the loose-fitting sweaters that drape the body casually, to crinkled linen suits with pants that gather at the knee as if pushed up to wade into the surf. These looks are not only are fit for a wind-swept beach, but they evoke a natural wear-and-tear that goes with only the most durable and most-loved wardrobe pieces. Designer Tomas Maier employs various kinds of stitching to build the appearance of natural wear-and-tear into the architecture of the pieces, including frayed elbows. Athletic wear is soft, with comfortable leggings and wide-legged shorts. Maier said he wanted "to convey a certain freedom, athleticism and ease."
MISSONI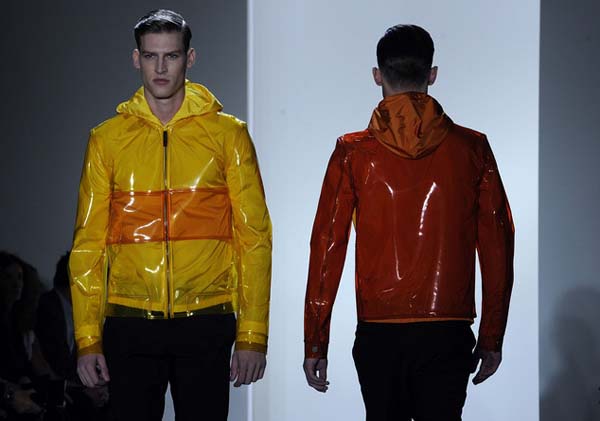 Angela Missoni has created looks with a Bohemian traveler in mind, taking inspiration from northern African patterns and silhouettes while maintaining a naturalistic color palette: saffron to gold, lavender to sapphire. One of the collection's mainstays is a tribal tunic with a pointy hood. As usual, Missoni's knitwear lends itself to layering, which fits the traveler's logic, with gilets worn unbuttoned beneath loose open jackets. The looks are paired with straight trousers, also in corduroy, and Bermuda shorts.
CALVIN KLEIN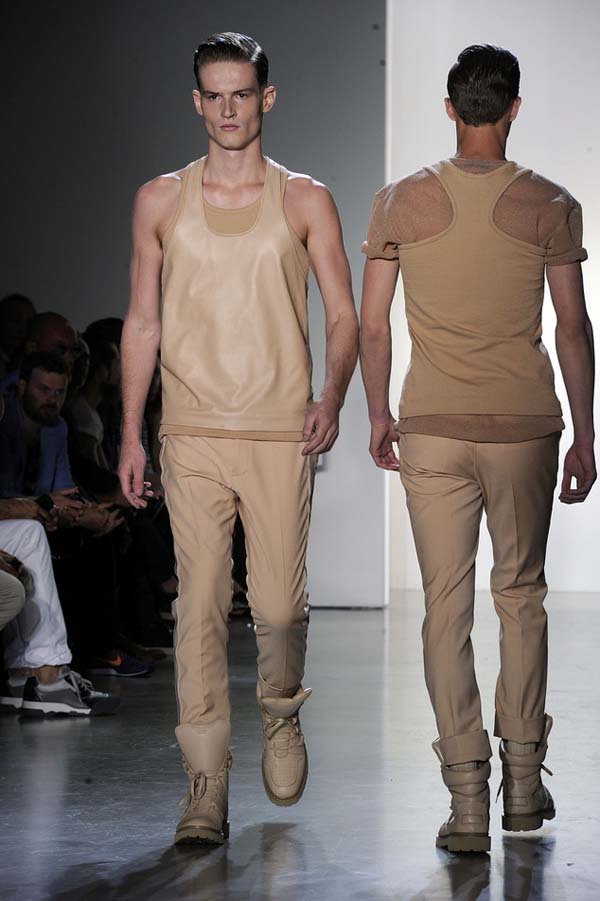 Calvin Klein designer Italo Zucchelli's collection for next summer could be called, "A study in beige." Zucchelli gives pale skin tone his full embrace, with monotone outfits ranging from racing back T-shirts with trousers to double-breasted jackets with relaxed shorts. Monochrome does not mean monotony, though. And Zucchelli livens up things with T-shirts and anoraks made out of transparent plastic resin in yellow, orange and red, with complementary sunglasses.
MARNI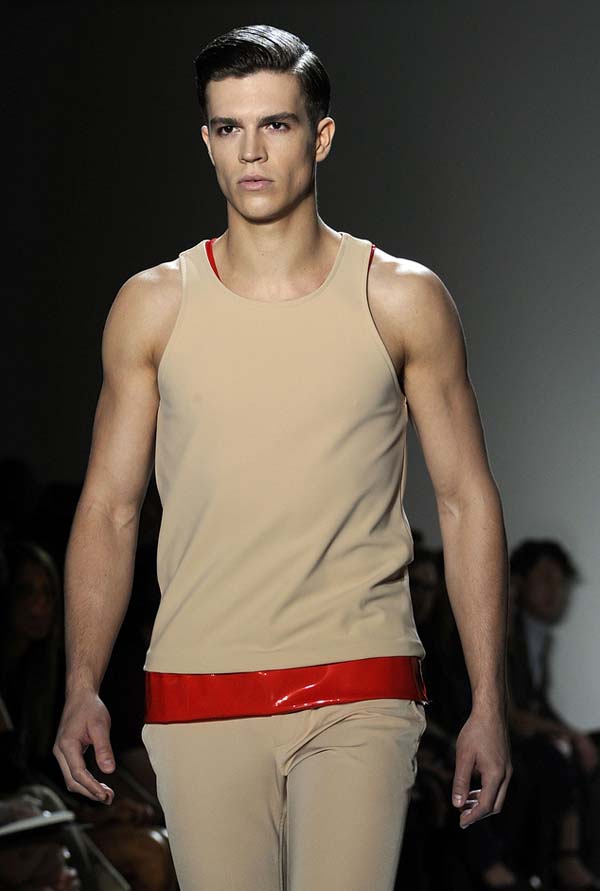 The Marni man is growing up, with more suits and less athletic wear than in seasons past. And creative director Consuelo Castiglioni is offering a transition from playtime to all-grown-up, with a reversible blazer. One side is button-down business. But turn it inside out, and there is a color-block two-tone coat of with deep kangaroo-like pockets out of a technical cotton. The looks are decidedly bold, with color blocks and large florals commanding attention from a distance. Despite the growing emphasis on suits, there are plenty of play clothes, like boxy sweatshirts out of bonded jersey — Marni's breathable answer to neoprene — and color-block tunics. The must-have accessory: A slim leather pouch resembling a festival pass, good for anything from a subway ticket to a credit card for a night out.
JIL SANDER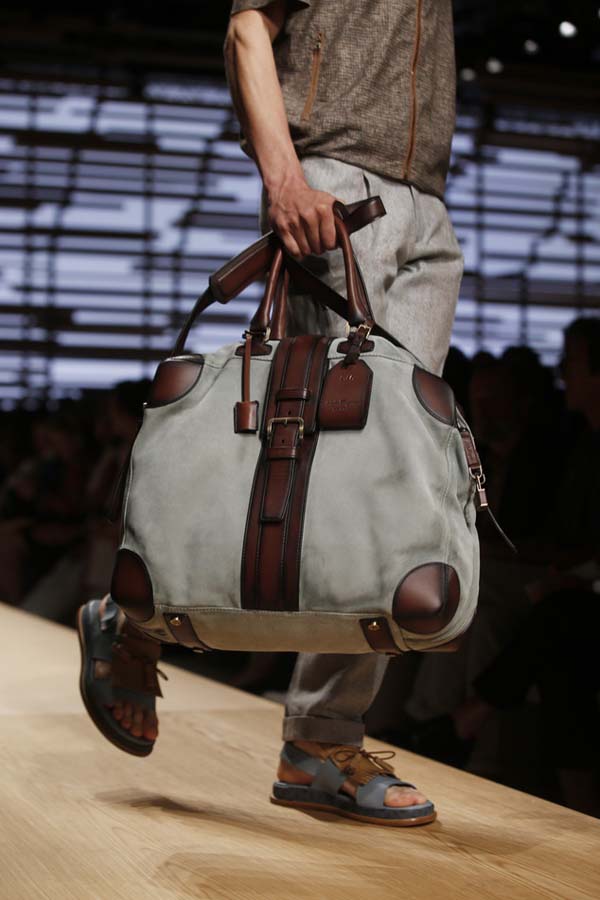 It's a season in transition for Jil Sander, and the collection for next summer was created by a design team that is bridging the gap between Sander's exit from her eponymous label last fall and the inaugural collection for incoming designer Rodolfo Paglialunga for womenswear in September. The collection was displayed in a minimalist installation, befitting the brand's ethos. The silhouette take a cue from urban athletic wear, with lime-colored stripes running down the sides of drawstring or elastic-waist trousers and shorts, worn with tank tops with transparent mesh panels. Suits are casual, out of technical fabric with tactile ridging that give the pieces a slightly crumpled look. Shoes are high-top sneakers and sandals.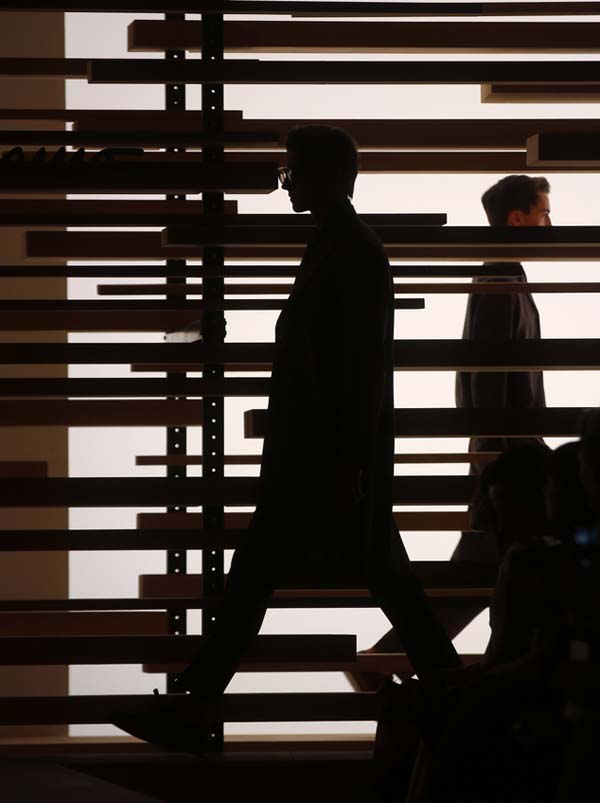 -dailymail