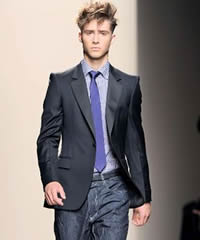 Fashion is not always about "what to wear". You have to know the land-mines and avoid creating a fashion disaster. The repercussions may range from awkward staring to pretentious whispering.
Your selection of clothing and accessories might just turn "her" off. Could anything be worse than that…especially when you spent more than usual to get that designer cardigan and spent hours styling your hair with mousse!!
International men's fashion is evolving slowly, but definitely. Several trends are taken forward from previous seasons, but some might just be filtered in the way. You have to keep a sharp observation to know what works and what is doomed to fail. Don't worry, we're here to sort those things out with you: You might have grown up watching the sitcoms where the oh-so-cool guy wearing sweatpants all the time and learning that chicks dig those!
True, that used to be the carefree casual attitude before, but nothing beats a khaki and cord. The gym-ish look does not say volumes about you. So, save those bucks over new sweatpants and you might instead buy a pair of cashmere hand gloves!
Color selection is crucial for any assortment of clothing. Drab or faded colored sweaters are a big no-no this fall. It makes you appear lank, bland and every other word for "tasteless"! Gray color is indeed being highlighted in the premium brands, but it's tricky to decide which shade/tone of gray is a fashion-bomb. So, to play it safe, go for the rich colors like violet, red, blue, etc.
Denim is becoming the hot thing for this season, but be careful to avoid the white-washed jeans. Your retro look may take you too far beyond the realms of "style". Grab a pair of midnight-shade jeans for your wardrobe and hit the winters off well! Be sure to ditch the skinny jeans and go for a straight, loose ones (not baggy, though).
People stretch fashion too far. This holds true in case of pointy-tip shoes! The Italian pointed dress shoes have been in the market for a couple of years. This raging flame of style is dying and you might as well save yourself from any damage! Rounder toe shape like the classic 90's is returning.
Lastly, the layers of clothing are a necessity in winters. True, it's also the upcoming men's fashion to layer up tees and shirts together for a rugged look. However, you must not fall into this trap if your body type is not skinny. The layered fabrics make your body look heavier. In case you are not slim and lean, the layers will actually appear as extra pounds on your body.