It is an old saying that the way to a man's heart goes through his stomach. Well that is absolutely true, at least for men it is! It is not only the heart that is connected to the stomach but also the brain.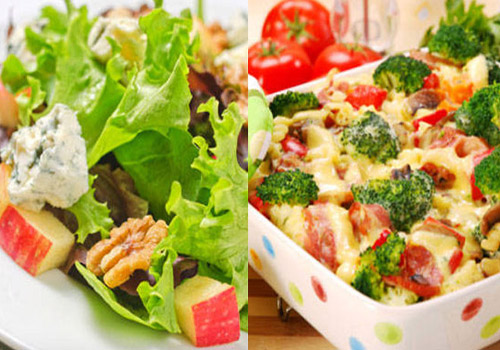 Men cannot function properly if their stomach is empty. In short, they are foodie. Men love to eat different and exotic food and thus often visit different restaurants in the area.Most men are in fact restaurant encyclopedia! But then there are some days when all a guy want is to just hang around at home and party alone, enjoy his own charming company. But again, how can we forget about food? That is where perfect broccoli mushroom pasta and choco muffins come in. These are two awesome recipes that you can use to treat yourself whenever you want to cook something for yourself, and the lady of the house is not around. These two recipes are not only super easy but also they are super delicious.
Broccoli Mushroom Pasta:
Ingredients:
Broccoli : 1 floret
Mushrooms : 200gm sliced
Tomatoes : 3
Onions : 2, chopped
Green chilies : 4/5 chopped
Green beans : 60gm, trimmed and halved
Black olives : 2 tbsp sliced
Green peas : 60gm
Garlic : 3/4 cloves, minced
Butter : 1 tbsp
Salt : as per taste
Olive oil : 4 tbsp
Oregano : 1 tsp
Fusilli pasta : 300gm
Parmesan cheese : 1/4 cup grated
Take a saucepan and boil water in it. When it starts boiling, put fusilli pasta in it and let it cook. On another burner, heat up some oil in a pan and fry chopped onions and garlic until onions are caramelized. Then add mushrooms and tomatoes in the pan (Boil mushrooms and all the green vegetables beforehand). Add some salt to the pan and cook until everything blends together and the mushrooms are soft and tender. Now add the broccoli, green chilies, green beans, green peas and black olives to the pan. Add the butter soon after and check the salt.
Add more if you want to and keep stirring. Do not forget to keep checking your pasta in the meantime. If it is cooked, drain the water and add it to your vegetable mixture. Keep stirring on medium heat so that the mixture gets well coated over the pasta. Stir in some oregano and stir it. Now take it off the flame and put it in a serving dish and dust over with some parmesan and Tada! You pasta is ready. So we have the main course dish. But what is a treat without some sweetness? Men always have to get something sweet after the meal, so here is a cherished recipe for yummy chocolate muffins.
Choco Muffins (Yields 8-10 muffins):
Ingredients:
Flour: 2 cups
Eggs: 2
Caster sugar: 1 1/2 cup
Butter: 1/2 cup melted
Baking powder: 1 tsp
Cream: 1 cup
Cocoa powder: 3 tbsp
Chunks of cooking milk chocolate
Preheat the oven at 180 degrees C for 20 minutes. Beat flour, melted butter eggs, caster sugar, and cream till its smooth, and then add baking powder and cocoa powder, keep blending. There may be a few lumps in the batter but make sure that the flour is mixed well. Grease your muffin tray and then fill up the molds half way up with the batter so that there is enough room for the muffins to rise. Add the chocolate chunks to the molds (you can also add chocolate chips instead of the milk chocolate) and set them in the oven. Check them after 20 minutes. If they are done, let them cool and firm and then relish on this delicious dessert.