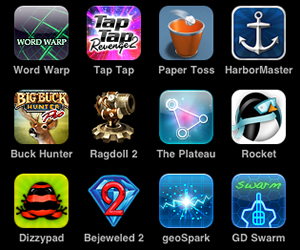 Did you know beside other features the best thing of iPhone is iPhone games and applications? Majority of the people usually buy iPhone because of iPhone games. It is the best time pass and fun to have iPhone games 24/7 in your pocket. You must have played number of iPhone games, but I am going to tell you about the top 10 iPhone games that you should have to play. These games will make you addict to iPhone games.
Angry Bird
First iPhone game in top 10 iPhone games is non-other than angry bird. Pigs have taken the eggs of birds now you have to save eggs from those pigs by hitting them with different birds which have different specialties. This is the most addictive iPhone game.
Fruit Ninja
Second best iPhone game in top 10 iPhone games is fruit ninja. In fruit Ninja you have to cut the fruits with your finger. Sounds easy, but the hard part is to avoid the bomb.
Doodle Jump
The first thing that comes to mind thinking of doodle jump is the cuteness of the jumper. You have to jump as higher as you can. This iPhone game is accelerometer sensitive game. Score as much as you can in this top 10 iPhone game.
NinJump
This is the must play iPhone game. This will make you addict to it. You have to run upward on the buildings and have to avoid the objects coming your way by touching the screen, by doing so you will jump to other side.
Flight control
It's not an easy game to manage the aircrafts traffic. If you want to check yourself in how good you can control the traffic then this is the must play iPhone game for you. You have to land different aircrafts on specific places but make sure you don't crash them.
Cut the rope
It's a strategic iPhone game. You have to take candy into the mouth of an adorable frog by cutting the ropes. Don't forget to catch all the stars that come your way.
Traffic Rush
It's your time to become a traffic controller. In this iPhone game you have to control traffic of cars from four ways and make sure that they don't crash. You can speed up the car by dragging it with your finger or you can also stop it by just clicking on it.
Flick Football
Top 10 iPhone games also have an iPhone game for football fans. For this iPhone game you can act like Beckham and shoot the ball in the right corner.
Cat physics
This iPhone game is also a strategic game in which you have to pass the ball from one cat to other by the shortest distance. Shorter the distance higher you score.
Paper Toss
How many times in your life have you tried to through paper ball right into the basket? Many times of course, but have you done it on your iPhone? You must try this iPhone game. You have to through paper ball in basket but the main problem in this game is the fan. According to the speed of fan make your angle of throwing the paper ball.