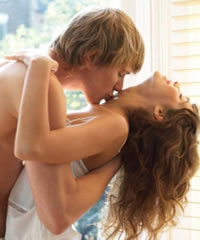 Every man and woman has sexual fantasies but the female fantasies are never exposed, this time the idea is to know what female fantasize about the time they want to spend in bed with their partner.
If we try to see how many of us have sexual fantasies then the answer would be that most of us have sexual fantasies. May it be a woman or a man; there are some sexual fantasies that everyone has.  These sexual fantasies can be mystical and explicit. Female fantasies are a lot different that the male fantasies because they leave their fantasies like that, they don't get to accomplish them. Some of the female fantasies are listed below;
Female fantasies are natural and healthy, even the sexual fantasies are a sign of being healthy sexually. And for a man and woman to be healthy sexually means that they are a complete human being and maintain their masculinity and feminism. Many females fantasize about having a marvellous night at a mysterious place with someone they don't know. The idea of never seeing the stranger again makes woman consider it a delicious idea to behave like a sexual predator for a day.
Although men are dominating in nature but women when it comes to sexual fantasies want to be bossy while their intimate time; they want to order for things they desire the man to do while they are having the time at night. The most popular and known female fantasy is to spank their man while they are in bed.
In today's world, it is hard to believe that many women fantasize to have an audience while they are engaged in sexual acts in the partner. Many of them fantasise being empowered with the thought that their female fantasy of being a performer while they are in bed with the partner has been true and they think it should be recorded so that they know how they were.
Role assigning game is to be fantasized by many females, it is a female fantasy of many to consider their man the master while they are in bed and surrender to their demands in bed.
Others have a sexual fantasy that the man has to please them. They fantasize that they need their partner to be obedient to their will and demand in bed.
Yes, it is a surprising female fantasy that most of the women want to experience the sexual fantasy of being a man for one night. They want to know what it feels like to penetrate a man and be the aggressor.
Some female fantasies include the most shocking and the known fantasy that is to share her body with another woman, being gentle and nice to each other for a change.
Female sexual fantasies also include the idea of being an innocent girl who is being taken advantage of and is being sexually harassed. Although this sounds unthinkable but it is a reality that females do fantasize this one.
Being a stripper for the night, woman fantasize that whenever their body is exposed their man gazes at them with greedy eyes and they want this female fantasy to come true every time they think their body would be exposed.
Yet another female fantasy that would surprise us is that woman wants to have sex in public, most of them, this gives them a sense of confidence and satisfaction.