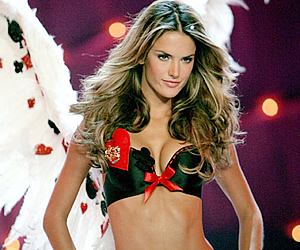 Hot Brazilian model Alessandra Ambrosio has sizzled the glamour world with her sexiest beauty. This Brazilian hot model has come in to the best in media's popularity when she worked with Victoria's Secret and showed her skills. Alessandra Ambrosio was born on the 11th of April, 1981. Being a successful model like Karen Mulder was her childhood dream. To fulfill her dream she started the modeling classes at the age of 12 in the Brazil. Even in so young age, say 14 it was her hot and God gifted beauty due to which she was in the list of top 20 models for elite modeling competition in Brazil. It was her first step to conquer the battle of hottest beauties in the glamorous media.
The hot model Alessandra Ambrosio actually got popularity with her contract to the brand Victoria Secret in their millennium fashion show 2000. She has role the Victoria Secret Fashion shows for 11years. Even in 2011 Alessandra Ambrosio throb the hearts with her sexiest wearing wings.
The hot model Alessandra Ambrosio has loving family. She expressed many times that Family is so important for her. Alessandra Ambrosio's and her longtime Californian businessman fiancé Jamie Mazur had beautiful baby child on 24th of the August, 2008. Her daughter name is Anja Louise Ambrosio Mazur. Now Alessandra Ambrosio has disclosed that is expecting her new family member. Giving an exclusive interview to US magazine online the hot model has revealed that she is pregnant again.
The legendary beauty Alessandra Ambrosio has revealed many of sexy photoshoots in her career.  But it was her keen passion to her work that she was two months pregnant on Victoria's Secret Catwalk. Alessandra Ambrosio shared about her this experience to US magazine online by saying "A week before, I told my booker, 'I don't think I'm going to be able to fit into the clothes because I gained a few pounds already!', but we were just quiet. I cut all the sugars and sweets 10 days before and I got my trainer… and we were doing lots of gluts and arms and back exercises."
Now the latest news about Brazilian Hot model is, she is going to launch her web series on her whole life with the name "A model's Life". Alessandra Ambrosio is also the National Ambassador of the National Multiple Sclerosis Society.