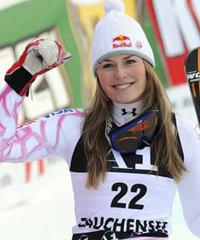 Lindsey Vonn born October 18, 1984 is an American alpine ski racer. She won the gold medal at the 2010 Winter Olympics in downhill, the first American woman to do so. She also won three consecutive overall World Cup championships (2008, 2009, 2010), the first American woman and second woman ever to accomplish this. Lindsey also won World Cup discipline championships in downhill (back-to-back) and Super G (the first American woman to do so).With her Olympic gold and bronze medals, 36 World Cup wins in four disciplines (downhill, Super G, slalom and super combined) and two World Championship gold medals (plus two World Championship silver medals), Vonn has become the most successful American woman skier in history.
At the 2010 Winter Olympics, Vonn planned to compete in five events. On February 10, she revealed that she had a bruised shin. Vonn said the pain from her injury was "excruciating" and she would have a difficult time competing at the Winter Olympics.[28] Due to unseasonably warm weather and resultant poor snow conditions, many of the Alpine skiing events were moved back, giving Vonn additional time to heal. On February 17, in her first event, Vonn won the gold medal in the downhill, besting longtime US rival Julia Mancuso by 0.56 seconds, becoming the first American woman to win an Olympic gold medal in downhill.
In her second event, the super-combined, Vonn finished first in the downhill portion of the race. However, in the slalom portion, she crashed out because she failed to get her ski around a right-hand gate. Vonn said her shin wasn't the problem. Vonn's friend, Maria Riesch, won the gold, and teammate Julia Mancuso earned the silver medal.
In her third event, the super-G, Vonn finished third behind Andrea Fischbacher and Tina Maze. Vonn was 0.74 second back from first place. On the last part of the race, Vonn said she didn't ski as aggressively as she could have and lost the race because of it. After the race, questions were raised about the setup of the course. Vonn's husband, Thomas, said the course was deliberately set up against Vonn. Austrian coach Juergen Kriechbaum denied any wrongdoing.
In her fourth event, the giant slalom, visibility was reduced by thick, low fog. Vonn crashed in her first run, resulting in a broken fourth finger and Vonn's disqualification from the event. In her fifth event, the slalom, Vonn lost control and straddled a gate, disqualifying her from the event.