Directed by Clea DuVall.
Starring Kristen Stewart, Mackenzie Davis, Mary Steenburgen, Victor Garber, Dan Levy, Alison Brie, Aubrey Plaza, Mary Holland, Burl Moseley and Jake McDorman.
SYNOPSIS:
Harper impulsively invites her girlfriend, Abby, to meet her family over Christmas. The only problem is that she hasn't told them she's gay.
It feels like the tide is finally turning on Kristen Stewart. After years of unfair criticism derived from her lead roles in the Twilight franchise and the largely reviled Snow White and the Huntsman, she spent the best part of a decade being brilliant in indie movies like Personal Shopper and has now made the jump back to the mainstream. She was a comedy standout in last year's unfairly maligned Charlie's Angels reboot and, now, she's taking on a proper studio romcom with the delectable festive treat Happiest Season.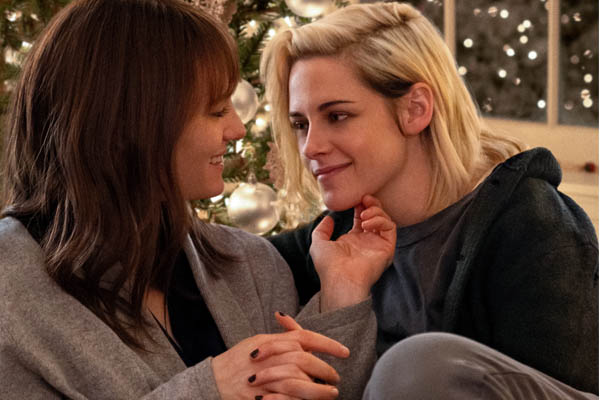 Every Christmas movie needs a Scrooge, and Stewart's Abby is certainly a Yuletide-sceptic figure, at one point stating that the festive season "brings out the worst in everything" with its emotional pressure-cooker environment. Desperate to turn her girlfriend into a Christmas lover, Harper (Mackenzie Davis) blurts out an invitation for her to come and meet her family.
Harper's father (Victor Garber) is running for mayoral office and her mother (Mary Steenburgen) is obsessed with curating the perfect family Instagram feed, with the help of Harper and her sisters – "super-mom" Sloane (Alison Brie) and the delightfully odd Jane (Mary Holland). Abby soon learns that Harper is not out to her parents and that their illusion of perfection is not compatible with having a gay daughter.
It's a classic premise for comedic misunderstandings and sneaking around the house in the dark. Both Stewart and Davis are excellent comedic performers in very different ways, with Davis playing broader notes to Stewart's deliciously under-played deadpan.
Writer-director Clea DuVall's script is wryly observed and stuffed to bursting with memorable one-liners, most notably from Steenburgen's suffocatingly perfect mother who delivers micro-aggressions with a welcoming smile. Co-writer Holland also makes her mark, taking every scene in which she appears as Jane and waltzing off with it wrapped in shiny paper and adorned with a bow.
Like many of the best Christmas movies, Happiest Season is blessed with a killer ensemble, handing plum supporting roles to the likes of Alison Brie and Aubrey Plaza, while Schitt's Creek creator Dan Levy parachutes in with comedic highlights as Abby's best friend. There's even a welcome cameo for Ru Paul's Drag Race alumni BenDeLaCreme and Jinkx Monsoon, as if the movie's LGBTQ+ credentials needed boosting any further.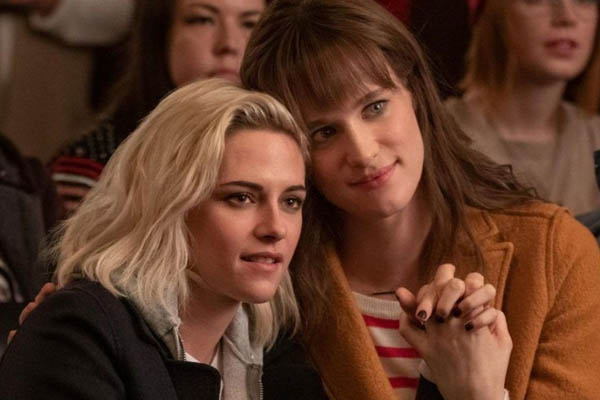 And that's really what makes Happiest Season more than just another Christmas romcom. It's still vanishingly rare for a major studio film to spotlight queer characters and rarer still for those movies to bring such nuance and detail to the process of coming out.
This is a movie which is unafraid of loud, romantic histrionics but also recognises when it's right to puncture those with a single line that brings the story down to Earth. DuVall's personal experiences give her a refreshingly specific perspective, which comes through clearly in her approach here. It's a feel-good festive movie, so the destination is obvious, but there are plenty of unexpected wrinkles along the way.
It's this specificity and sensitivity which helps the movie stand out among the annual crop of Christmas romcoms. Duvall understands and utilises the tropes of the genre while twisting the perspective and sketching relatable detail and humanity to every single character – even the ones lesser films would write off as simplistic comic relief.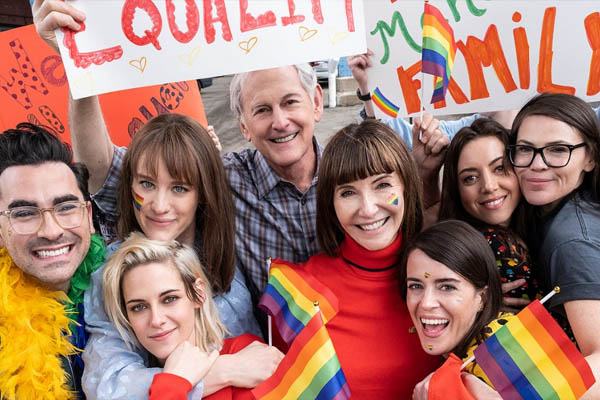 Grand romantic gestures happen, but their existence in this story is less important than their timing. The movie acknowledges the difficulties that remain around navigating coming out in the 21st century, as well as the suffocating influence of cartoonish, middle-class perfection.
But that's not to suggest Happiest Season has pretensions of being better than the razzle-dazzle of December – an "elevated Christmas movie", like The Babadook with tinsel. It's unashamedly silly, unashamedly glittery and willing to crank up that Christmas playlist on Spotify at the slightest provocation. But the Yuletide romance has been so blandly heteronormative for so long –