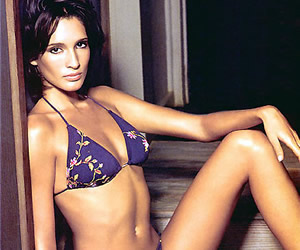 Astrid Munoz is one of the hottest and sexiest models in the fashion industry. The most alluring trait of supermodel Astrid Munoz is her exotic stare, her piercing dark eyes, combined with her slender nose and luscious lips. The unmatchable looks of Astrid Munoz give her the sort of gaze that's simply irresistible for men. Supermodel Astrid Munoz has been in the field of modeling since she was just 19 years old. In the short span of time, Astrid Munoz hot images simply rule the hearts of many and she accomplished far more than her fellow models. Through various fashion shows, public appearances and cover shoots for established fashion magazines like Vogue and Elle, Astrid Munoz slowly made her way into public eye.
Because of her fascinating beauty and hot images, Astrid Munoz has been featured in elite magazines. Besides appearing in photo shoots for fashion magazines, supermodel Astrid Munoz has also been featured in commercials and print ads for leading companies such as Dolce & Gabbana, Saks Fifth Avenue and Yves Saint Laurent. The ravishing beauty Astrid Munoz is simply a treat to watch with her perfectly proportioned body that's neither too slim nor too skinny. The perfect structure of Astrid Munoz has given her a simply incredible look.
The superhot Astrid Munoz was born in 1974 in San Juan, Puerto Rico and was raised by very traditional and strict parents. From her childhood, Astrid Munoz was beautiful. Due to her gorgeous features and attractive curves, supermodel Astrid Munoz was approached by a representative for a modeling studio based in Spain, when she was just 14. However, her parents refused the offer for working as a full-fledged model and forced Astrid Munoz to continue her education.
After few years, Astrid Munoz decided to enter in modeling field and spent several years establishing her modeling career. Shortly after few gigs, supermodel Astrid Munoz got her big time break landing magazine covers and prestigious ad spots. At the same time Astrid Munoz also got the invitation to sign the modeling contract with Elite Modeling Agency.
Whether it is modeling shoot or a magazine shoot, hot and sexy Astrid Munoz images always gained huge appreciation from her admirers. With her killer looks and amazing sexual appeal, supermodel Astrid Munoz is a client of the world-renowned Elite Modeling Agency, which is home to many other famous supermodels including Paulina Porizkova and Alessandra Ambrosio.