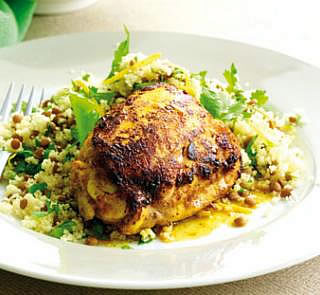 Try this simple one-pot dish using chicken breasts and store cupboard basics for a satisfying meal for four.
Ingredients:
3 teaspoons grated fresh ginger
3 teaspoons mild curry powder
1/4 cup lime juice
4 large skinless chicken thigh fillets (600g total), fat trimmed
1 cup couscous
400g can lentils, rinsed, drained
2/3 cup chopped coriander leaves
coriander sprigs, to garnish
4 cups steamed broccoli and snow peas, to serve
Method:
Step 1 Combine ginger, curry powder and juice in a medium bowl. Add chicken. Turn to coat.
Step 2 Place a large, oiled frying pan over medium heat. Cook chicken, turning, for 10–12 minutes, until golden and cooked through.
Step 3 Meanwhile, mix couscous and 1 cup boiling water in large heatproof bowl. Cover and stand about 5 minutes, until water is absorbed, fluffing occasionally with a fork. Stir in lentils and coriander. Spoon chicken and pan juices over couscous and serve with coriander sprigs and steamed vegetables.