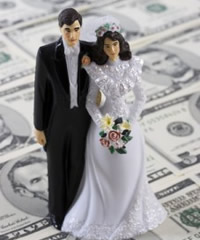 Money matters a lot in a marriage, if husband and wife are not on equal footing then other issue rise. Here is a perfect financial plan to help the couples run a successful life.
Money plays a very important role in marriage and how you spend it depend upon the couples. It is necessary to keep an effective communication and for that one should highlight certain goals, ideas and a financial plan to avoid all sorts of confrontations and conflicts. Many couples often think that teaching their young ones about money is inappropriate but this is not true. After marriage, husband and wife should make a rule of managing their finances.
There is a need to reach a viable agreement which most couple do not follow and find it difficult to save. For a perfect marriage, future arguments can be avoided and a map of understanding, expectations and goals can help sort issues of money.
Here is a financial road map which suggests that couples of any age should keep this financial plan in mind:
To make a relationship successful, start living in your limits.
Treat the household like a business and take a serious stance on it.
Create an income-and-expense statement for a better relationship.
Have a balance sheet in your hand to improve the finances of a family.
Set out a budget plan for kids and cut out extra things.
Also learn ways to pay your debt.
Go on a debt diet starting with the little stuff.
Also buy one credit card for your entire family and enjoy the perfect relationship.
Make your money matters work and enjoy the blessings of a successful marriage.