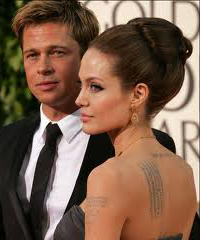 It is little strange to put some private stuff on sale but would have some exceptional cause for Brad Pitt and Angelina Jolie who just sold their baby photos to get something out of it.
The parents of six Brad Pitt and Angelina Jolie always look forward to do some functional things. Recently, they sold the private photos of their twins Vivienne and Knox for which they received 14 million and then put the amount into their charitable foundation.
The idea of selling very own pictures is though different but if it draws noticeable charity then of course, really helping and that so the super couple Brad Pitt and Angelina Jolie did of their kids pictures.